As Million Women Mentors embarks on our fifth year in operation, we are excited to build on the progress we have made and share authentic insight into the world of mentoring through our #BeyondtheBuzzword campaign. Part of this work is showcasing the leaders who have paved the way for women across industries and set a true example for girls and women across the globe. We know that leadership comes in many forms and that there are many avenues to success. The 2019 Million Women Mentors Leaders to Learn From series showcases the career paths of STEM leaders who have followed unique pathways to attain their current status. Every month we will celebrate the story of a new trailblazer who beat the odds and define what it means to be a role model. These profiles will celebrate individuals who persevere against convention and remind young people and seasoned veterans alike that there is no longer a "traditional" means to career success.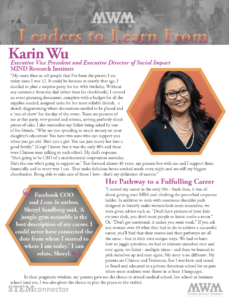 Karin Wu
"My mom likes to tell people that I've been the person I am today since I was 12. It could be because at exactly that age, I decided to plan a surprise party for her 40th birthday. Without any assistance from my dad (other than his checkbook), I created an event planning document, complete with a budget for all the supplies needed, assigned tasks for her most reliable friends, a sketch diagramming where decorations needed to be placed and a 'run-of-show' for the day of the event. There are pictures of me at this party, very poised and serious, serving perfectly sliced pieces of cake. I also remember my father being asked by one of his friends, "Why are you spending so much money on your daughter's education? You have two sons who can support you when you get old. She's just a girl. You can just marry her into a good family." (Gasp! I know, but it was the early 80's and these were Chinese men talking to each other). My dad's response, "She's going to be CEO of a multinational corporation someday. She's the one who's going to support us." Fast forward almost 40 years, my parents live with me and I support them financially and in every way I can. They make delicious home-cooked meals every night and are still my biggest cheerleaders. Being able to take care of those I love – that's my definition of success."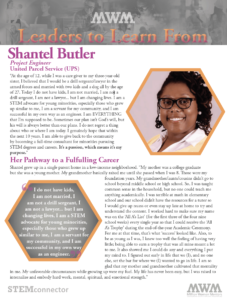 Shantel Butler
 "At the age of 12, while I was a care giver to my three-year-old sister, I believed that I would be a drill sergeant/lawyer in the armed forces and married with two kids and a dog all by the age of 27. Today I do not have kids, I am not married, I am not a drill sergeant, I am not a lawyer… but I am changing lives. I am a STEM advocate for young minorities, especially those who grew up similar to me, I am a servant for my community, and I am successful in my own way as an engineer. I am EVERYTHING that I'm supposed to be. Sometimes our plan isn't God's will, but his will is always better than our plans. I do not regret a thing about who or where I am today. I genuinely hope that within the next 10 years, I am able to give back to the community by becoming a full-time consultant for minorities pursuing STEM degrees and careers. It's a passion, which means it's my purpose."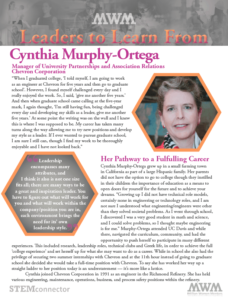 Cynthia Murphy-Ortega
"When I graduated college, 'I told myself, I am going to work as an engineer at Chevron for five years and then go to graduate school'. However, I found myself challenged every day and I really enjoyed the work. So, I said, 'give me another five years.' And then when graduate school came calling at the five-year mark, I again thought, 'I'm still having fun, being challenged every day and developing my skills as a leader, give me another five years.' At some point the writing was on the wall and I knew this is where I was supposed to be. My career has taken many turns along the way allowing me to try new positions and develop my style as a leader. If I ever wanted to pursue graduate school, I am sure I still can, though I find my work to be thoroughly enjoyable and I have not looked back."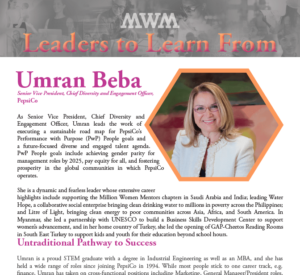 Umran Beba
 As Senior Vice President, Chief Diversity and Engagement Officer, Umran leads the work of executing a sustainable road map for PepsiCo's Performance with Purpose (PwP) People goals and a future-focused diverse and engaged talent agenda. PwP People goals include achieving gender parity for management roles by 2025, pay equity for all, and fostering prosperity in the global communities in which PepsiCo operates. She is a dynamic and fearless leader whose extensive career highlights include supporting the Million Women Mentors chapters in Saudi Arabia and India; leading Water Hope, a collaborative social enterprise bringing clean drinking water to millions in poverty across the Philippines; and Litre of Light, bringing clean energy to poor communities across Asia, Africa, and South America. In Myanmar, she led a partnership with UNESCO to build a Business Skills Development Center to support women's advancement, and in her home country of Turkey, she led the opening of GAP-Cheetos Reading Rooms in South East Turkey to support kids and youth for their education beyond school hours.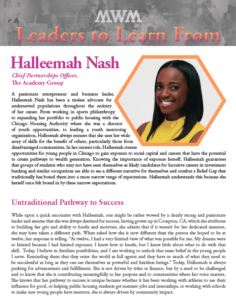 Halleemah Nash
A passionate entrepreneur and business leader, Halleemah Nash has been a tireless advocate for underserved populations throughout the entirety of her career. From working in sports philanthropy to expanding her portfolio to public housing with the Chicago Housing Authority where she was a director of youth opportunities, to leading a youth mentoring organization, Halleemah always ensures that she uses her wide array of skills for the benefit of others, particularly those from disadvantaged communities. In her current role, Halleemah creates opportunities for young people in Chicago to gain exposure to social capital and careers that have the potential to create pathways to wealth generation. Knowing the importance of exposure herself, Halleemah guarantees that groups of students who may not have seen themselves as likely candidates for lucrative careers in investment banking and similar occupations are able to see a different narrative for themselves and combat a Belief Gap that traditionally has boxed them into a more narrow range of expectations. Halleemah understands this because she herself once felt boxed in by these narrow expectations.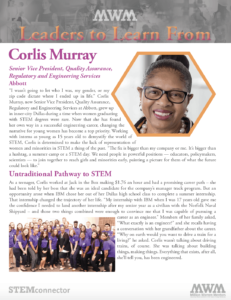 Corlis Murray
Corlis Murray, now Senior Vice President, Quality Assurance, Regulatory and Engineering Services at Abbott, grew up in inner-city Dallas during a time when women graduating with STEM degrees were rare. Now that she has found her own way in a successful engineering career, changing the narrative for young women has become a top priority. Working with interns as young as 15 years old to demystify the world of STEM, Corlis is determined to make the lack of representation of women and minorities in STEM a thing of the past. "The fix is bigger than my company or me. It's bigger than a hashtag, a summer camp or a STEM day. We need people in powerful positions — educators, policymakers, scientists — to join together to reach girls and minorities early, painting a picture for them of what the future could look like."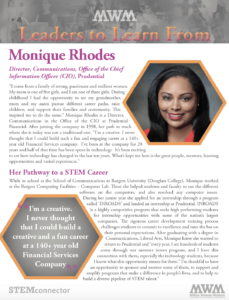 Monique Rhodes
"I come from a family of strong, passionate and resilient women. My mom is one of five girls, and I am one of three girls. During childhood I had the opportunity to see my grandmother, mom and my aunts pursue different career paths, raise children, and support their families and community. This inspired me to do the same." Monique Rhodes is a Director, Communications in the Office of the CIO at Prudential Financial. After joining the company in 1998, her path to reach where she is today was not a traditional one. "I'm a creative. I never thought that I could build such a fun and engaging career at a 140+ year old Financial Services company. I've been at the company for 20 years and half of that time has been spent in technology. It's been exciting to see how technology has changed in the last ten years. What's kept me here is the great people, mentors, learning opportunities and varied experiences." 
Kate Marshall
 "There is an idea [that you have] of what your life is going to look like based on the expectations and opportunities of the people around you." Kate Marshall grew up in a working-class neighborhood in San Francisco as the oldest of six children. She was a very intelligent and shy child whom at age 12 wanted to be a librarian. "I could never image having a career where I would have to speak in front of people, let alone be a public person." She worked extremely hard to push through socioeconomic roadblocks and graduated with a bachelors and then law degree from the University of California, Berkeley. "I have been blessed to walk past the boundaries that I thought were set on me from childhood]." In November of 2018 Kate was elected Lieutenant Governor of Nevada after running a campaign that championed her strong beliefs in workforce development, small businesses, and education.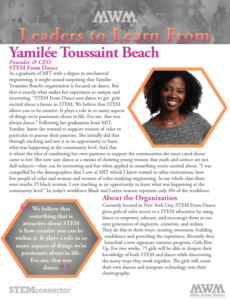 Yamilée Toussaint Beach
As a graduate of MIT with a degree in mechanical engineering, it might sound surprising that Yamilée Toussaint Beach's organization is focused on dance. But that is exactly what makes her experience so unique and interesting. "STEM From Dance uses dance to get girls excited about a future in STEM. We believe that STEM allows you to be creative. It plays a role in so many aspects of things we're passionate about in life. For me, that was always dance." Following her graduation from MIT, Yamilee knew she wanted to support women of color in particular to pursue their passions. She initially did that through teaching and saw it as an opportunity to learn what was happening at the community level. And that is where the idea of combining her own passions to support the communities she most cared about came to her. She now uses dance as a means of showing young women that math and science are not dull subjects—they can be interesting and fun when applied to something you're excited about. "I was compelled by the demographics that I saw at MIT which I knew existed in other institutions; how few people of color and women and women of color studying engineering. In my whole class there were maybe 25 black women. I saw teaching as an opportunity to learn what was happening at the community level." In today's workforce Black and Latina women represent only 4% of the workforce.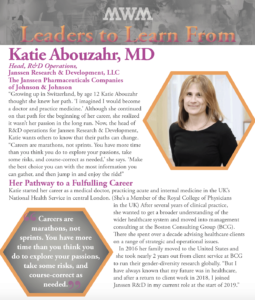 Katie Abouzahr
 "Growing up in Switzerland, by age 12 Katie Abouzahr thought she knew her path. 'I imagined I would become a doctor and practice medicine.' Although she continued on that path for the beginning of her career, she realized it wasn't her passion in the long run. Now, the head of R&D operations for Janssen Research & Development, Katie wants others to know that their paths can change. "Careers are marathons, not sprints. You have more time than you think you do to explore your passions, take some risks, and course-correct as needed,' she says. 'Make the best choice you can with the most information you can gather, and then jump in and enjoy the ride!"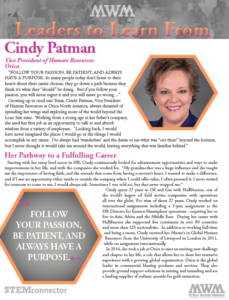 Cindy Patman
Growing up in rural east Texas, Cindy Patman, Vice President of Human Resources at Orica North America, always dreamed of spreading her wings and exploring more of the world beyond the Lone Star state. Working from a young age at her father's company, she used her first job as an opportunity to talk to and absorb wisdom from a variety of employees. "Looking back, I would have never imagined the places I would go or the things I would accomplish in my career. I've always had 'wanderlust' and the desire to see what was "out there" beyond the horizon, but I never thought it would take me around the world, leaving everything that was familiar behind."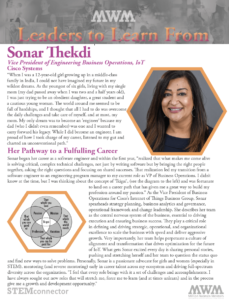 Sonar Thekdi
 "When I was a 12-year-old girl growing up in a middle-class family in India, I could not have imagined my future in my wildest dreams. As the youngest of six girls, living with my single mom (my dad passed away when I was two and a half years old), I was just trying to be an obedient daughter, a great student and a cautious young woman. The world around me seemed to be full of hardships, and I thought that all I had to do was overcome the daily challenges and take care of myself, and at most, my mom. My only dream was to become an 'engineer' because my dad (who I didn't even remember) was one and I wanted to carry forward his legacy. While I did become an engineer, I am proud of how I took charge of my career, listened to my gut and charted an unconventional path."