In today's STEMdaily, USA Today profiles Charlie Blackwell-Thompson, NASA's 1st woman Launch Director who will lead the Artemis mission to the moon; the Virgin Hyperloop One test pod stops by Capitol Hill, a Minnesota high school hops to send a washer machine to ISS, an Ohio State professor asks if computer science counting towards math credits is a good thing on The Conversation, and Carnegie Mellon receives a $15M gift to endow the dean's chair in the College of Engineering.
Click here for the full 10/17 STEMdaily.
Government
States compete to build first successful hyperloop route (Axios)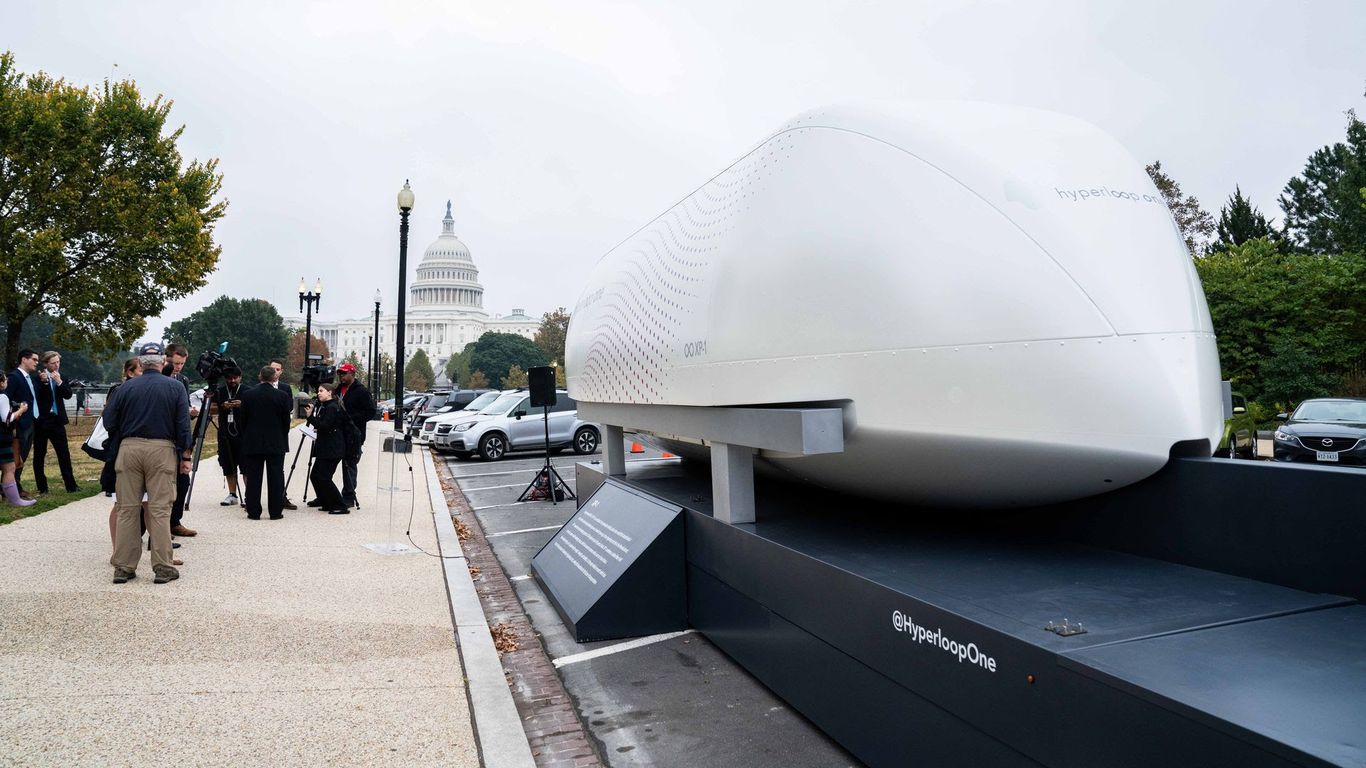 The Virgin Hyperloop One XP-1 test pod made a stop outside the U.S. Capitol this morning as part of its national roadshow introducing people to the technology. Why it matters: 10 states are competing to become the first with a hyperloop route: Missouri, Texas, Colorado, Ohio, North Carolina, Pennsylvania, Washington, Illinois, Oregon and Nevada (where the test track is located). Department of Transportation Secretary Elaine Chao proposed a Non-Traditional and Emerging Transportation Technology Council to look into regulation of this type of technology, and the House voted to fund the effort.
House Committee to Vote on Scientific Integrity Act (UCR)
The House Science Committee just announced that it will amend and vote on the Scientific Integrity Act on Thursday at 10 am. This is the first time this kind of bill, which would protect the independence of science and scientists in federal government agencies, will receive a vote in the United States Congress. It is fantastic to see solid momentum and growing support in Congress for this good government legislation. 
Diversity in STEM
NASA's first female launch director to lead countdowns during Artemis missions to the moon (USA Today)

More than 30 years ago as a wide-eyed Clemson University senior, Charlie Blackwell-Thompson walked into Firing Room 1 at Kennedy Space Center – a historically male-dominated setting – hoping to land a job testing software for space shuttle payloads. Today, Blackwell-Thompson commands that firing room. As NASA's first female launch director, she'll lead the countdown when the ambitious Artemis missions propel the next American astronauts to the moon – including the first woman. The Artemis program will attempt to build off the success of the Apollo 11 moon landing 50 years ago. Artemis is the Greek moon goddess and the twin sister of Apollo.
Grant Creates New Pathway For Minority Women In STEM (WLRN)
Minority women believe it's their time to be role models in the male-dominated STEM field and a $2.4 million grant from NSF is providing five universities with the resources to help them do it. The Florida Alliance for Graduate Education and the Professoriate is led by the University of South Florida St. Petersburg and includes Florida A&M University, Florida International University, Florida Memorial University, and Bethune-Cookman University. 
K-12 Education
Tiny Minnesota high school aims to put a washing machine in outer space (Minneapolis Star-Tribune)

A tiny high school in east central Minnesota with barely 200 students is turning out some of the world's most advanced technology. An ethanol-fueled car that gets more than 500 miles per gallon? They've built that. A prosthetic foot that's been used by the world's top paralympic skiers? Built that, too. Now the tech students in this town of 1,800 some 60 miles north of the Twin Cities are working on a new project that's out of this world – literally.
Chris Orban (Ohio State): Computer science now counts as math credit in most states – is this a good idea? (The Conversation)
As part of the Code.org's mission to "make computer science count" in K-12 education, the non-profit takes credit for having influenced graduation policies in 42 states. Today, 47 states and D.C. allow computer science classes to count in place of math classes like Algebra 2. Prior to the organization's work, only a few states allowed computer science to count for math credit. As a computational physicist and education researcher who teaches college freshman introductory physics, I worry that allowing computer science to count as a required math or science course could make students substantially less prepared for college.
Savannah high school students help prepare city for a changing climate (Atlanta Journal-Constitution)
Students at Jenkins High School in Savannah are building a new system that will help their community cope with flood patterns that have changed with the rise in global temperatures. Teenagers in the school's engineering class are building water level sensors that can produce data for rescuers and residents. While others protest government policy or argue about whether climate change is real, they are taking a hands-on approach.
Car design competition drives STEM education at Akron-area high schools (Akron Beacon-Journal)

When Thomas the Train, Fred Flintstone's Stone Age car and the DeLorean from "Back to the Future" compete, who wins? High school teams found out Thursday in the Gravity Racing Challenge High School STEM Team Competition at Derby Downs in Akron, racing seven cars they designed and built and 10 super stock derby cars. Linda Hubbell, education director for the Soap Box Derby and founder of the GRC, said the program enables students to learn STEM skills and enjoy the effort at the same time. 
Higher Education
CMU Engineering Deanship receives $15M gift (Pittsburgh Business Times)
Carnegie Mellon University announced Monday that it had received a $15 million gift to endow the dean's chair of the College of Engineering. The gift, courtesy of CMU alumni William Strecker and his wife, Nancy, will provide funding for the college to invest in educational and research initiatives across its several departments as well as institutes and programs at CMU locations in Africa and Silicon Valley. The university said it will recognize the donation by establishing the Dr. William D. and Nancy W. Strecker Dean's Chair of the College of Engineering.
After Brexit Vote, British Share of E.U. Science Funding Declined (Inside HigherEd)
The UK's share of European Union research funding has fallen by 28 percent since 2015, before voters in Britain approved a referendum to exit the E.U., according to a newly published analysis of the impact of Brexit uncertainty on British science from the Royal Society, a leading scientific group. The analysis found a 39 percent reduction in U.K. applications for the E.U.'s Horizon 2020 grants and a 35 percent reduction in the number of scientists coming to Britain through the E.U.'s prestigious Marie Sklodowska Curie Individual Fellowship program.