In today's STEMdaily, Axalta and the Philadelphia Eagles honor area STEM teachers, EVERFI announces new partnership with SAP, TCS recognized as one of America's Top 50 Companies for Diversity, Billionaire Robert F. Smith (famous for paying off the student loans for this year's graduating class at Morehouse) announces paid STEM InternX initiative, and the Governance Lab at the NYU Tandon School of Engineering announces the launch of the 100 Questions Initiative.
Click here for the entire 5/29 STEMdaily.
K-12 Education
Axalta, Eagles celebrate 5 years of recognizing local STEM teachers (Philadelphia Tribune)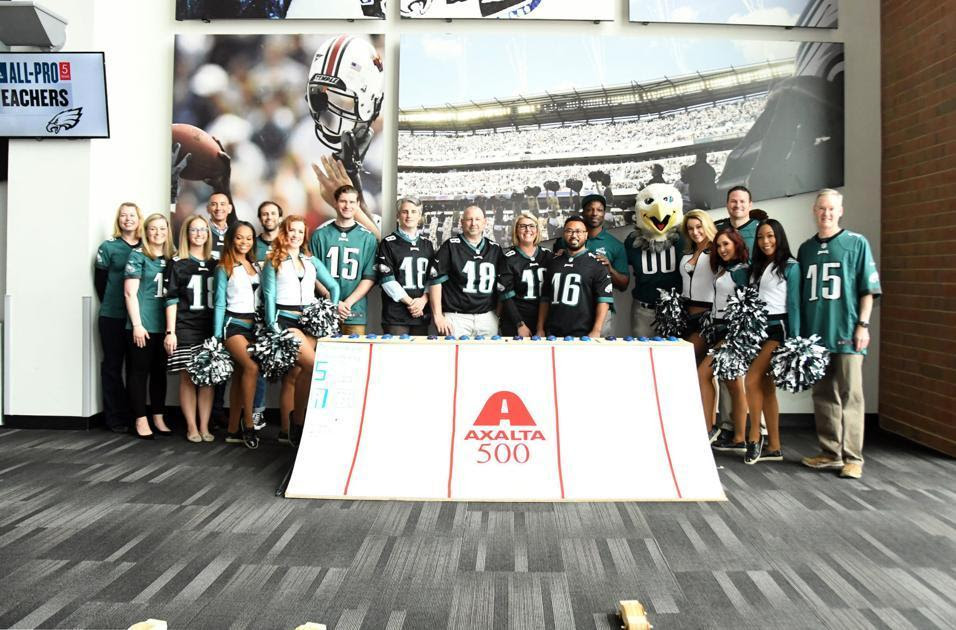 Axalta, a leading global supplier of liquid and powder coatings headquartered in Philadelphia, and the Philadelphia Eagles, recently celebrated its fifth year of partnership with the Axalta All-Pro Teachers program. The program honors the Philadelphia region's exceptional fifth through 12th grade teachers who use STEM to teach and empower students. Representatives from Axalta and the Eagles kicked off the 2019 program year at Lincoln Financial Field on May 7.
Take STEM lessons outside of the box with these 3 approaches (Education Dive) 
Educators looking to engage students more deeply in STEM may want to consider including humor and outside-the-box projects. That's the findings of a survey of 1,100 U.S. high school students, conducted by the Philadelphia, Pennsylvania-based Society for Industrial and Applied Mathematics (SIAM) in April 2019. Students who participated took part in the MathWorks Math Modeling (M3) Challenge organized by SIAM.
EVERFI and SAP Announce Partnership to Deliver STEM Education to Students in U.S. and Canada (EVERFI) 

EVERFI Inc. and SAP announce the availability of hands-on STEMexperiences for 6th through 9th-grade classrooms across the United States and Canada, inspiring the next generation of professionals. The interactive educational program, called SAP Digital Scholars, introduces and encourages students to pursue exciting careers in technical fields through gamified lessons. 
TCS Among America's Top 50 Companies for Diversity (TCS) 
Tata Consultancy Services (TCS), a leading IT services, consulting, and business solutions organization, has been recognized in DiversityInc's 2019 Top 50 Companies for Diversity. This exclusive list acknowledges the nation's top companies for diversity and inclusion management, exceling in such areas as hiring, retaining and promoting women, minorities, LGBT, veterans, and people with disabilities.
50 Years of Children Drawing Scientists (Edutopia) 

When boys and girls were asked to draw a scientist in a study several decades ago, the results revealed a stunning bias: 99.4 percent of the drawings depicted a male scientist. Out of 5,000 drawings collected between 1966 and 1977, only 28 were of female scientists, all of which were drawn by girls. Since then, nearly 80 studies have repeated this experiment with over 20,000 students across all grade levels, and the results of all these studies were reviewed in a meta-analysis published last year.
Robert F. Smith Is Seeking Candidates For Paid STEM Internship (VIBE) 
Billionaire Robert F. Smith continues to inspire with the InternX initiative, which hopes to bring opportunities in the STEM field to young adults. Financially covered though Smith's Fund II Foundation, platform InternX aims to give those interested in STEM from underserved communities access to better resources. InternX also allows business leaders to search for unique and qualified candidates in these disadvantaged communities and in turn, provides the students with paid internships that can lead to full-time jobs at major corporations. 
Industry
Lina Klebanov (Head of CSR, TCS): Why Corporate Social Responsibility (CSR) Is the Catalyst for Stronger Enterprises and Communities (HR Technologist) 
Throughout the last few years, there have been greater demands for companies to increase employee engagement by reinventing corporate social responsibility strategies (CSR). One study found C-Suite executives leading companies to increase their CSR spending by 75 percent compared to five years ago, indicating companies are no longer afraid to take a stance and support initiatives they are passionate about. 
Higher Education
The GovLab at NYU Tandon announces the 100 Questions Initiative (NYU)
The Governance Lab at the NYU Tandon School of Engineering announced the launch of the 100 Questions Initiative — an effort to identify the most important societal questions whose answers can be found in data and data science if the power of data collaboratives is harnessed. The initiative, launched with initial support from Schmidt Futures, seeks to address challenges on numerous topics, including migration, climate change, poverty, and the future of work.
Network including Center for Science and the Schools joins global STEMecosystem (Penn State) 
A central Pennsylvania collaborative network that includes the Penn State College of Education's Center for Science and the Schools (CSATS) is one of 15 organizations selected to join the STEM Learning Ecosystems Community of Practice (SLECoP). In a highly competitive process, the ENGINE (Empowering the Next Generation of Innovators and Entrepreneurs) of Central PA, a project of fiscal sponsor The Foundation for Enhancing Communities, was selected to join the STEM Learning Ecosystems Community of Practice to join the global movement devoted to dramatic improvement in how students learn.
Computational Thinking Is Critical Thinking. And It Works in Any Subject. (EdSurge) 
Computational thinking is one of the biggest buzzwords in education—it's even been called the '5th C' of 21st century skills. While it got its start as a way to help computer scientists think more logically about data analysis, lately it's been catching on with instructors in a diverse number of subjects—from science to math to social studies. One reason for its emerging popularity? It's engaging. "Ask yourself, would you rather get to play with a data set or would you rather listen to the teacher tell you about the data set?" asks Tom Hammond, an associate professor for the teacher education program at Lehigh University.