In today's STEMdaily, Arkansas hosts inaugural National Computer Science Summit for State Leaders, NASA is now open for commercial business and private astronauts, Carlyle Group co-founder makes $20M donation to Catholic University supporting nursing and science building and education programs, the Institute of Play announces its shutting down but handing over its learning assets to UC Irvine's Connected Learning Lab, and much more!
Click here for the full 6/11 STEMdaily.
K-12 Education
Arkansas hosts 1st computer science meet-up for states (Arkansas Democrat Gazette) 

Arkansas was the center of the computer science education universe on Monday. Industry and government leaders from 30 states, Washington, D.C. and Canada convened at the Arkansas Governor's Mansion for the National Computer Science Summit for State Leaders. Arkansas regularly finds itself in the bottom of half of nationwide rankings, so state leaders – including Gov. Asa Hutchinson – bask in the state's status as the leader in kindergarten through 12th-grade computer science education.
IMSA Hosts Info Session On K-12 STEM Programs In Evergreen Park (Patch) 
The Illinois Mathematics and Science Academy will host an information session this Wednesday, June 12, at the Evergreen Park Public Library. Parents and students can learn more about Illinois's premiere, tuition-free STEM academy. The school has been ranked as the #1 public high school in the country by Niche. The Aurora-based IMSA offers an immersive, experimental, rigorous academic and residential life programs for 10th, 11th and 12th graders featuring entrepreneurship, research and global learning opportunities.
Wake Downtown grant will take STEM lessons into K-12 classrooms (Wake Forest)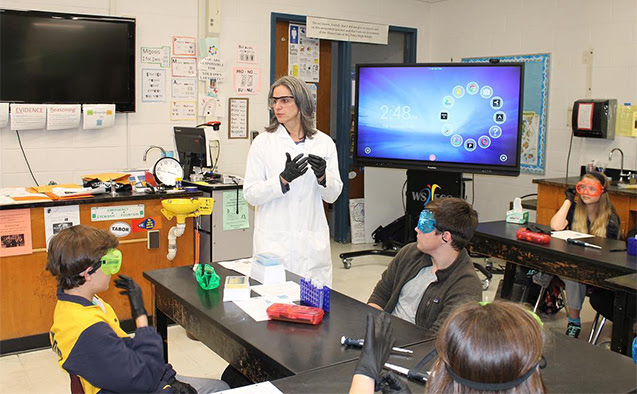 With a grant from the Jessie Ball duPont Fund, Wake Forest University will start a program this fall to provide free STEMeducational activities to K-12 students in local Title 1 schools. The program, based at Wake Downtown, will train undergraduate students to conduct STEM-based lessons in schools. The 18 students who will train as STEMdocents this year will expand Wake Downtown's ability to take science experiences into the community. Once trained in science communication, the docents will help lead programs in local schools, in public spaces like Kaleideum, and at Wake Downtown. 
Government
Foreigners are still interested in U.S. tech jobs despite volatile politics (VentureBeat) 
Global interest in technology jobs in the United States is holding steady, despite the volatile political situation related to immigration, according to an analysis by job site Indeed. But interest has declined in India, which has historically been the largest source of foreign clicks on U.S. tech job listings. That's the latest interesting data that Indeed has been able to glean from running one of the world's biggest job sites.
The International Space Station is now open for business and tourists (Fast Company) 

NASA just (metaphorically) whipped out a giant pair of scissors and cut the ribbon to welcome customers, because the International Space Station is ready for business and throwing open the airlocks to any company that needs to operate in low-Earth orbit. Representatives of 20 companies joined NASA officials onstage to launch the space agency's new commercial plan, which allows private businesses to operate on the ISS, including "in-space manufacturing," marketing activities, healthcare research "and more." It also lets private astronauts visit and stay on the ISS. 
Higher Education
Carlyle co-founder donates $20 million to Catholic University (Washington Business Journal) 
Bill Conway, co-founder and co-executive chairman of D.C. private equity giant The Carlyle Group LP, and his wife, Joanne, have made a $20 million donation to Catholic University, bringing their total financial support to the school to $40 million – the largest amount in university history from a single benefactor. The nursing school has been renamed the Conway School of Nursing in honor the couple's generosity. The gift will enable the nursing program to double its enrollment to more than 700 students. The donation will go toward full and partial scholarships and the construction of a new nursing and sciences building.
UTEP to Receive $1.2M Grant to Prepare Future STEM Teachers (KRWG) 
The University of Texas at El Paso will partner with the El Paso Independent School District (EPISD) to foster the next generation of highly skilled STEMteachers through a five-year, $1.2 million grant from the National Science Foundation (NSF). UTEP will receive support from the Robert Noyce Teacher Scholarship Program, an NSF effort that helps address the critical need for K-12 teachers of STEM by encouraging talented students and professionals to pursue teaching careers in elementary and secondary schools.
Institute of Play Closing Down, Handing Work over to UC Irvine (T.H.E. Journal) 
Institute of Play, a nonprofit in New York City that pioneered and promoted the use of gaming principles for learning, has decided to shutter operations, effective by the end of summer. The organization said it would hand over its learning assets to the Connected Learning Lab at the University of California, Irvine. The university will receive a "non-exclusive license" to the "entire archive of materials," which it has committed to making freely available. 
Georgia
Georgia technical colleges raising tuition (Atlanta Business Chronicle) 
Students at Georgia's technical colleges will be paying more in tuition starting this fall. The Technical College System of Georgia's board has approved a tuition increase from $89 per credit hour to $100, the system's first hike in rates since 2014. "This will allow our colleges to keep pace with increased operational costs and meet the needs of students and industry while remaining one of the most affordable postsecondary options in Georgia," agency spokesman Mark D'Alessio wrote in an email to Atlanta Business Chronicle.