In today's STEMdaily, a recap of this year's Day of Design Mission – Connected Storm Sanctuary with JASON Learning and U.S. Cellular, an edX survey finds that 1/3 of U.S. workers say they lack data skills, Scientific American explores the challenges working moms face in STEM fields, NASA pioneer Poppy Northcutt tells attendees at the Girls in Tech Catalyst Conference in San Francisco to not be hidden figures, and Forbes explores if STEM degrees will help save the MBA.
Click here for the full 6/20 STEMdaily.
K-12 Education
Connected Storm Sanctuary (JASON Learning)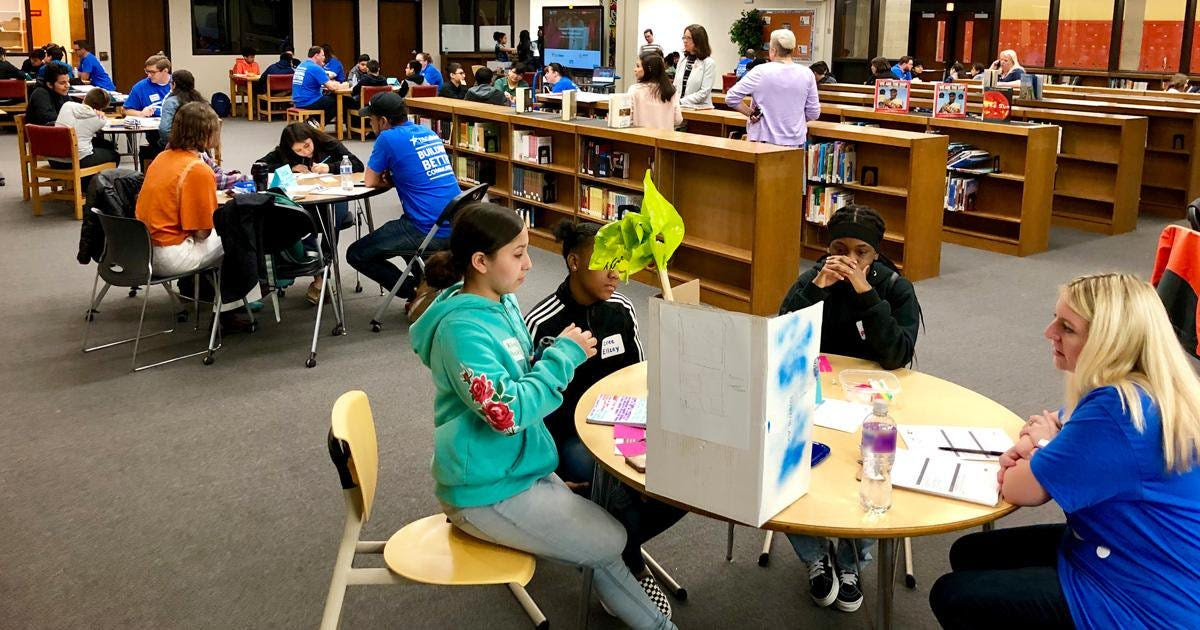 U.S. Cellular in collaboration with JASON Learning asks this question with a new Day of Design Mission – Connected Storm Sanctuary. In this mission, students imagine and prototype solutions that use mobile technologies to create a better storm sanctuary: a temporary space where families come together, connect, engage and be safe during, and immediately after, a natural disaster. US Cellular sponsored access to this mission and JASON Learning online content for all K-12 teachers and students during the 2018-19 school year and was first launched in Tulsa, Oklahoma and Milwaukee, Wisconsin school districts. 
Classroom experience updates coming to Minecraft: Education Edition for Back to School 2019! (Minecraft) 
Minecraft has proven to be an inclusive learning tool since teachers first started using the game in their classrooms, helping students develop communication and collaboration skills in a familiar, fun, digital environment. Educators say Minecraft: Education Edition empowers them to meet students where they are, and encourages learners' confidence. "I think the greatest value that a product like Minecraft brings to any school district is that it breaks the monotony and routines that can happen in a school environment," explains Bobby Blount, Chief Technology Officer for Cherokee Country Schools. 
Jobs & Skills
A third of U.S. workers say they lack data skills (Edscoop) 
Research by the online course provider edX reported on Tuesday that 39% of U.S. consumers they surveyed across industries feel they lack proficiency in data skills – though respondents also said they are reluctant to ask their employers for additional training. The survey polled 1,000 adults, 917 of whom were or had previously been employed. Another 37% of the respondents said they lacked proficiency in soft skills like project management. And a quarter said they had been forced to seek outside help with technology they used at the workplace.
Keeping the grads in town: Pittsburgh Passport aims to retain young talent (Pittsburgh Post Gazette) 

How do you convince soon-to-be college graduates to start their professional lives in Pittsburgh? Show them the city's diverse entertainment options, from museums to sports teams to outdoor activities? Give them the opportunity to network with CEOs from a variety of companies looking to hire? Bring out Steelers linebacker Ryan Shazier for a motivational speech? The Pittsburgh Passport Summer Internship Series, a program…
Climate justice and environmental ethics in tech, with Amazon engineer Rajit Iftikhar (TechCrunch) 
Nearly 8,000 Amazon employees, many in prestigious engineering and design roles, have recently signed a petition calling on Jeff Bezos and the Amazon Board of Directors to dramatically shift the giant company's approach to climate change. By deploying a kind of corporate social disobedience such as speaking out dramatically at shareholders meetings, and by engaging in a variety of community organizing tactics, the "Amazon Employees for Climate Justice" group has quickly become a leading example of a growing trend in the tech world: tech employees banding together to take strong ethical stances in defiance of their powerful employers. 
Leading Women In STEM Share Five Keys To Unlocking Innovation (Forbes) 

NASA Chief Flight Director Holly Ridings wants to help everyone – not just NASA – make their way into space. The Leukemia & Lymphoma Society Chief Medical Officer Gwen Nichols is hoping to soon launch a pediatric leukemia master trial to further curative efforts for the disease. Their goals might be vastly different, but there's a common factor that's driving their paths to success: innovation. In a panel moderated by ForbesWomen editor Maggie McGrath at the 2019 Forbes Women Summit, Ridings and Nichols, alongside fellow trailblazers Kate Ryder, founder and CEO of the virtual women's healthcare clinic Maven, and Anjali Sud, CEO of Vimeo, took the stage to share what it means to be innovative and how the mindset has benefited their respective companies.
Where Are All the Working Mothers in STEM? (Scientific American) 
The greatest challenge in the life of a mother-scientist, almost without exception, lies in refining the balance between the two rewarding roles. It takes effort and adjustment, not to mention compromise and sacrifice. It's not about "having it all" – which, in my opinion, is an unhealthy, unhelpful expectation – nor is it about being one thing more than the other. My passion lies in my field, and my pride in my children.
Companies are still ignoring older female workers, and it's hurting their bottom line (Fast Company) 
Many companies love to tout the success of their Diversity and Inclusions programs. Glassdoor publishes an annual list of the Top 20 companies with diversity programs. Fortune partnered with A Great Place to Work to create a list of the best workplaces for diversity. There are many more lists like this, but according to PwC, only 8% of these companies include age in their D&I strategies.
NASA engineer tells women in STEM: Don't be hidden figures (CNET) 

No one had ever seen a woman in NASA's Mission Control Center before Poppy Northcutt stepped in the room. In 1968, during the Apollo 8 program, Northcutt worked for TRW, a contractor for NASA. As a return-to-Earth specialist, she and her teammates were tasked with coming up with a quick and accurate trajectory for the Apollo 8 crew to come back to Earth from the moon. "At the time, it was a very big deal that there was a woman in there," Northcutt said Wednesday at the Girls in Tech Catalyst Conference in San Francisco. 
Higher Education
Why are STEM students abandoning academic career paths? (Vanderbilt)
Faculty in the STEM fields are powerful forces in shaping engineering and computing education – the profession's essential source of training and skills development. But even as the number of students pursuing science and engineering doctorates has increased dramatically, there has been a steep decline in candidates interested in pursuing academic careers. Ebony O. McGee, associate professor of STEM education at Vanderbilt University's Peabody College of education and human development wanted to find out why.
Will STEM Degrees Save The MBA? (Forbes) 
With 70% of full-time MBA programs in the U.S. seeing a decline in applications, some business schools are piloting a potential solution geared toward one important demographic: international students. There's been an estimated 10% drop in international enrollment in the nation's graduate schools of business between 2017 and 2018, according to the Graduate Management Admissions Council, totaling an estimated 8,000 students from overseas.