In today's STEMdaily, CU Boulder adds biomedical engineering degree, the University of Arizona hosts its summer STEM program for visually-impaired teens, Penn State Behrend lands $1M from NSF to train STEM teachers at Erie Public Schools, Washington Post features 50 astronauts, in their own words, on what it's like to work in space, and Vice asks why is Oregon banning coding and programming books from prisoners?
Click here for the full 6/24 STEMdaily.
K-12 Education
Discover the Girls in Aviation Day Summer STEM program happening in Pensacola August 11 – August 16! (National Flight Academy) 

The Girls in Aviation 6-Day Deployment is designed to introduce and educate girls on the many career choices and lifestyle possibilities offered by the aviation/aerospace industry. Throughout the week, girls will have the opportunity to interact with special guest speakers like female pilots, aircraft maintenance professionals and more! During the NFA's 6-day overnight program, students live aboard AMBITION, a state-of-the-art virtual aircraft carrier. They work together to plan humanitarian missions with ultramodern, advanced technology, learn to fly in 42 networked flight simulators, eat on a mess deck, sleep in staterooms and receive mission briefings in six fully electronic ready rooms.
'Cardiologists in training ': Science in the Summer lets kids explore STEM subjects (Beaver County Times) 
A conference room at Beaver Area Memorial Library converted into an anatomy lab earlier this week. Twenty fourth-through sixth-graders, divided in groups of four, huddled over dissection trays upon which rested preserved sheep hearts. The program for students in second through sixth grades is sponsored by GlaxoSmithKline and administered by the Franklin Institute, a museum and center of science education and research in Philadelphia, in partnership with Carnegie Science Center in Pittsburgh.
NJ high school student wins 2019 U.S. Stockholm Junior Water Prize (Water World) 

The Water Environment Federation (WEF) has named Sonja Michaluk winner of the 2019 U.S. Stockholm Junior Water Prize (SJWP), the nation's most prestigious youth competition for water-related research. Michaluk, a student at Hopewell Valley Central High School in Pennington, N.J., explored the use of DNA barcoding to measure the health of waterways with larval Chironomidae (order Diptera), the most widespread macroinvertebrate family. She won $10,000 and an all-expenses paid trip to Stockholm to represent the United States at the international competition in late August. 
Higher Education
CU Boulder to offer biomedical engineering degrees (Colorado Daily) 
Students at the University of Colorado Boulder will soon have access to stand-alone biomedical engineering degrees, which Forbes dubbed the current 'most valuable college major.' "Biomedical engineering is an important engineering discipline that we've seen nationally impact people's lives," said College of Engineering and Applied Sciences Dean Bobby Braun. "Technology is more a part of that today than it's been in the past, and engineers certainly have the ability to contribute to the medical advances that are taking part in society."
Visually-impaired teens get an up-close look at STEM careers in a UA program (KGUN) 
The University of Arizona is trying to get visually impaired teenagers interested in science. Organizers hope to get those young students into STEM fields by stimulating senses other than sight. It is part of UA's Project POEM a National Science Foundation funded project designed to introduce visually impaired middle and high school students to careers in STEM.
Behrend gets $1 million grant to develop math teachers (GoErie.com) 
Penn State Behrend wants to add to the number of math teachers in Erie County and nationwide. It has a big number to help reach its goal. Behrend received a $1 million grant from NSF to partner with the Erie School District and three other school districts in the county to offset teacher shortages in math. Over five years starting this coming school year, Behrend will use the grant to develop what it calls "a pipeline of highly qualified mathematics teachers who are committed to teaching in 'high-need' school districts." 
Jobs & Skills
'Nanodegrees' and other paths to jobs in the self-driving car industry (San Jose Mercury News) 

Michael Peredo never took any self-driving technology classes, but he's a longtime software engineer with experience in various industries, including working at Mercedes-Benz's research office in Silicon Valley. Now he's a senior solutions engineer at Velodyne, a maker of lidar, which is used in many autonomous vehicles' sensing systems. "Many of us learn best by doing," said Peredo, who recently showed off near Velodyne's San Jose office how lidar can "see" and map the environment outside a vehicle. "Hey, you get paid in the process."
Engineering student handed out resumes on the street — and it worked (NJ.com) 
Desperation had set in for Angel Plaza, its grip pushing him to the streets of Newark after months of unemployment as a struggling college student. On a large foam board that he designed, Plaza made his written message plain: Engineering student looking for a job. Please take a resume. #TheMarathonContinues. He included his LinkedIn name and college email address at the New Jersey Institute of Technology, where he's a junior majoring in electrical engineering.
50 astronauts, in their own words (Washington Post)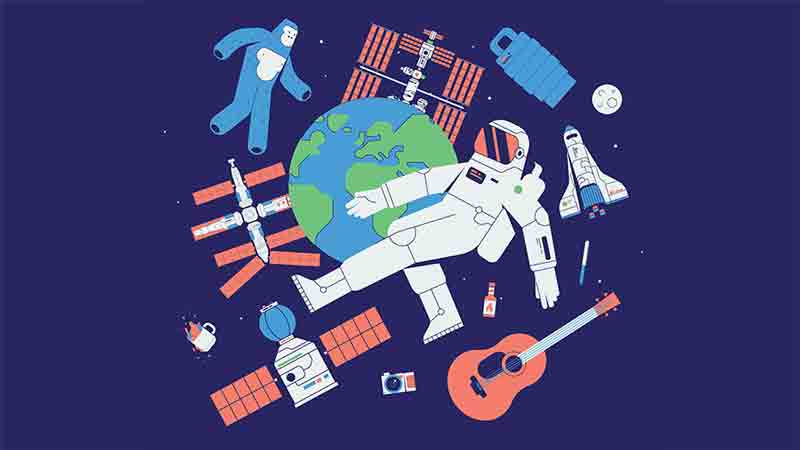 Nothing prepares you for the view. From space, Earth is alive. The greenest greens and bluest blues, auroras dancing at the poles, lightning storms flashing like fireflies. Landmasses defined more by ancient, tectonic textures than any arbitrarily imposed border. The impossibly thin atmosphere protecting 7 billion people from the dark, unforgiving void beyond. All seen while floating weightlessly. Weightlessness — the experience is surreal, at least at first. Rookie astronauts bumble about like babies learning to walk and delight in sleeping on the ceiling. 
Oregon
Prisons Are Banning Books That Teach Prisoners How to Code (VICE) 
The Oregon Department of Corrections has banned prisoners from reading a number of books related to technology and programming, citing concerns about security. Rejected books that are geared towards hacking, such as Justin Seitz's Black Hat Python, may represent a clearer threat to the Department of Corrections, which fears that prisoners could use those tools to compromise their systems. But how did books such as Windows 10 for Dummies, Microsoft Excel 2016 for Dummies, and Google Adsense for Dummies (marked as posing "clear and present danger"), fail the prison's security test?