In today's STEMdaily, MIND Research recaps the 2019 STEMconnector Summit, a look at the success of SWE's career re-entry initiative for women in STEM, women mentor young women through a University of Hawai'i Manoa program, Walmart announces it's extending its debt-free college benefits to high schoolers as a way to attract and retain workers in a tight labor market, and an Omron Foundation grant helps build new robotics lab at the University of Houston's Cullen College of Engineering.
Click here for the full 6/5 STEMdaily.
STEMconnector
STEMconnector Releases Input to Impact Report at Annual Summit (MIND Research Institute)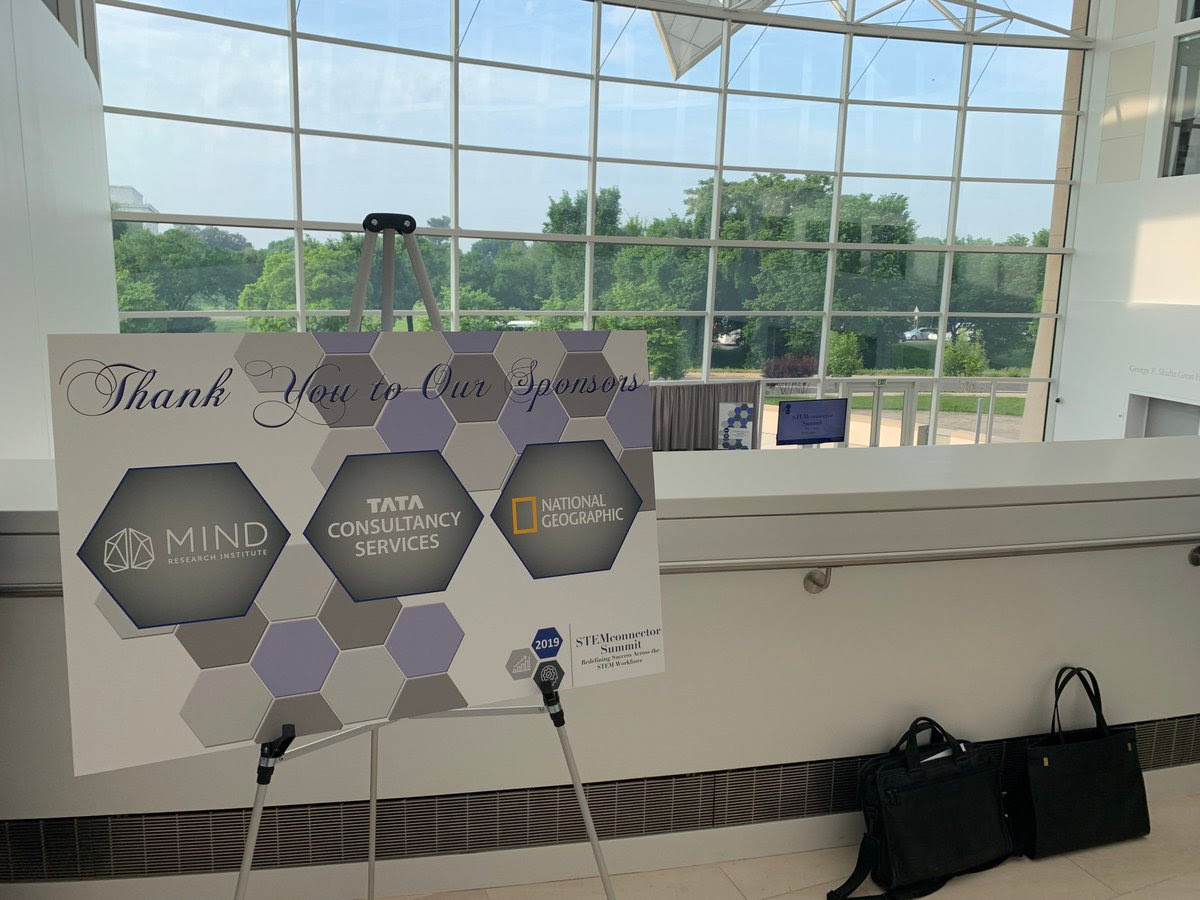 The 2019 STEMconnector Summit was held at the United States Institute of Peace in Washington, DC on May 2, 2019. MIND and other member organizations from across the country gathered for a day of sharing ideas and discussion about the state of STEM in the US, as well as ongoing efforts to improve STEMeducation and better equip the future STEM workforce. At the event, STEMconnector released its latest report, Input to Impact: A Framework for Measuring Success Across the STEM Talent Ecosystem.
The Success of SWE's STEM Reentry Task Force (Society of Women Engineers) 
The STEM Reentry Task Force, the groundbreaking career reentry initiative co-led by the Society of Women Engineers and iRelaunch is now responsible for hundreds of returning technical professionals resuming careers after career breaks. The powerful alliance, including global companies across sectors ranging from automotive to defense to environmental to technology, has entered its fourth year as Apple, CDM Smith, Honeywell, Ingersoll Rand and The Procter & Gamble Company join as new members and past members continue to grow their programs.
Women mentor young women in UH STEM program (University of Hawai'i) 

Women hold less than a third of STEM jobs in the U.S., but a modest program out of the University of Hawaiʻi at Mānoa math department is working to turn that around. Since 2016, female UH Mānoa students in STEMfields have been mentoring female high and middle school aged students. They meet on the Mānoa campus once a week and are guided through subjects like computer coding and advance math by young women excelling in those fields.
Global collaborations are changing conditions for women in STEM (The Conversation) 
Broadening the representation and leadership of women in science and engineering continues to be both a focus and a challenge for Canada and the global world. Recently, the University of British Columbia, together with the Vancouver-based consulates of France, Germany, the Netherlands, Switzerland, the UK, and the US, hosted Women in Science, Health and Innovation. We brought together women from universities, industry and government from our respective countries to showcase global leadership… 
K-12 Education
Walmart to High Schoolers: Work Here and We'll Pay for Test Prep and College Tuition (Education Week) 
Walmart is extending its debt-free college benefits to high schoolers as a way to attract and retain workers in a tight labor market. The nation's largest private employer said Tuesday it will offer free college SAT and ACT prep for its workers in high school, while offering two to three free general education college classes through an educational startup. Walmart estimates about 25,000 people under the age of 18 work at its stores, a fraction of its 1.3 million person U.S. workforce.
Goodyear Volunteers Building STEM-Based Escape Room At Akron School (WOSU) 

The escape room at the National Inventors Hall of Fame Middle School will challenge students with STEM problems. It's the second escape room that Goodyear has made for the Akron Public Schools. Last year, company volunteers made one for the National Inventors Hall of Fame High School. Community Engagement Manager Joni Fitch says the rooms can be adapted to different grade levels. The theme for the middle school's escape room is a ticket office at Talladega Superspeedway, while the high school's room is constructed to look like a Goodyear store. 
Higher Education
New University of Houston Robotics Lab Provides Students with Hands-on STEM Skills (Campus Technology) 
The University of Houston's Cullen College of Engineering has unveiled a new robotics laboratory designed to prepare students for real-world engineering challenges. Technologies and equipment for the lab were donated by the Omron Foundation, the charitable arm of industrial automation company Omron. The lab features a robotics area as well as a section dedicated to senior design projects, where students work on capstone projects that give them real-world design experience and job-ready skills.
New partnership to encourage STEM educators (The Eagle) 
A new partnership will foster the next generation of highly skilled STEM teachers. Bevill State Community College has partnered with the College of Natural Science and Mathematics and the College of Education at the University of West Alabama, in addition to Coastal Alabama Community College on Project INSPIRE: Implementing Novel STEM Practices in Rural Education. INSPIRE is a Robert Noyce Teacher Scholarship Program funded by a $1.38 million grant funded by NSF. 
Reading, languages and STEM: These summer programs will help keep your kids sharp for the fall (Lansing State Journal) 
Summer is time for a break and, after nine months of school, most young people are excited to have some time off from education. During this time however, students may forget skills developed throughout the year – many will have trouble transitioning back into school in the fall. To help parents out, many local libraries and school systems across mid-Michigan promote education through a variety of summer programs all across the Lansing area…
Library to host STEM-themed lessons using 3D printer throughout the summer (WHNT) 

The Huntsville-Madison County Public Library will be inspiring creativity across Madison County this summer by teaching audiences about STEM and the wonders of 3D printing. The downtown branch of the library bought a 3D printer with the Library Services Technology Grant, and they're excited to share how it works and what it can do. "Houses are built by 3D printing, prosthetics, kitchen tools, toy robots," explains outreach coordinator Mandy Pinyan.