In today's STEMdaily, 50 years after the Apollo 11 Moon Landing, Teen Vogue reflects on the women who helped make it happen and profiles 12 current inspirational women in STEM, the Los Angeles Dodgers host 500+ students for STEM Field Day, Ithaca College receives $1.2M to recruit and train STEM teachers, a program in Miami-Dade schools matches teen CTE students with pre-schoolers in a coding and robotics learning program, and Iowa announces new round of computer science grants.
Click here for the full 6/6 STEMdaily.
Diversity in STEM
The Apollo 11 Moon Landing Anniversary Is a Reminder of the Importance of Women in STEM (Teen Vogue) 

When we think of the first human moon landing on July 20, 1969, most of us think of Neil Armstrong, the astronaut who famously took "one small step for man, one giant leap for mankind." Missing from that memory and quote – Women. In fact, it took decades before many of us knew anything about the female NASA engineers who were pivotal in getting Armstrong's predecessor, astronaut John Glynn, into space. Katherine Johnson, one of the black women NASA employees represented in the 2017 film Hidden Figures, finally got recognized with her own NASA center at the age of 99.
Rutgers' Douglass College to Host Big Ten Summit on Women in STEM (TAP Into)
Douglass Residential College will host the first meeting of the Big Ten Academic Alliance Summit Series on Advancing Women in STEM. The summit will take place Thursday-Saturday at the Kathleen W. Ludwig Global Village Living Learning Center. The series is a multi-year, multi-university initiative designed to increase the number of women undergraduate and graduate students and faculty in STEM.
Verizon STEM Camp returns to Mid Michigan College (Midland Daily News) 
The Verizon Innovative Learning Program returns to Mid Michigan College for 2019, and introduces STEM skills, including augmented reality, 3D printing and entrepreneurship to sixth- to eighth-grade girls. Launched in partnership with the National Association for Community College Entrepreneurship (NACCE), this program will again be hosted at 16 community colleges, engaging over 1,500 students. 
K-12 Education
The Los Angeles Dodgers Foundation Hosts 500 Students for STEM Field Day (Los Angeles Sentinel)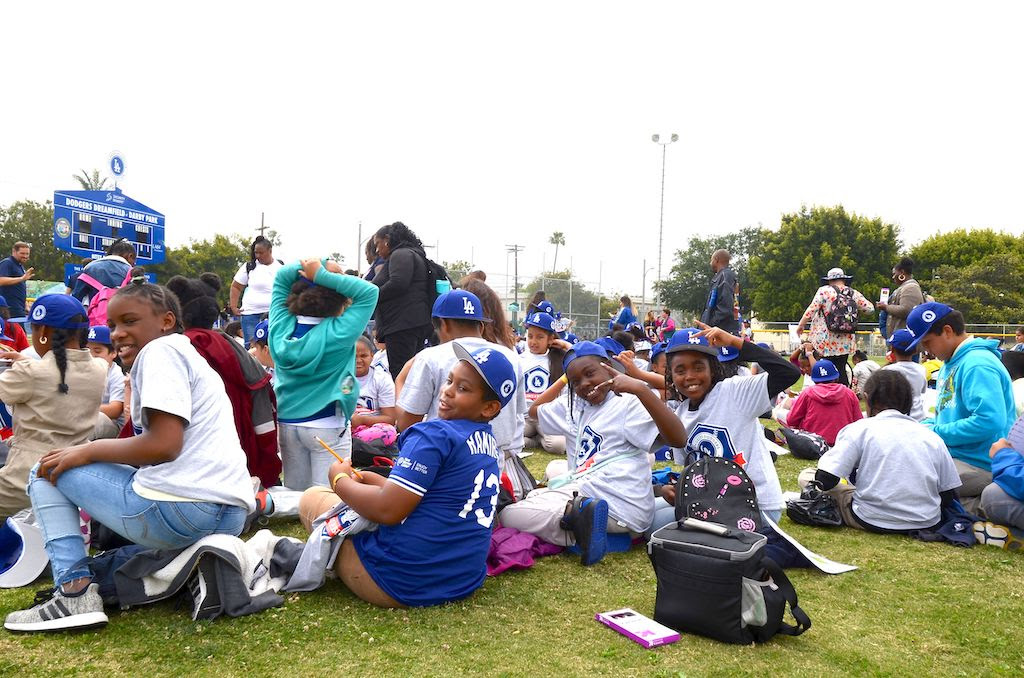 The Los Angeles Dodgers Foundation (LADF) and the Science of Sport organization celebrated the first year of STEM education in the Inglewood Unified School District. A group of 500 3rdto 5thyear elementary students participated in interactive STEM experiments led by current and former Los Angeles Dodgers players. It was certainly a commemorative day for students, teachers and players. After a year of implementing the Science of Baseball program, players and students were happy to work together solving scientific experiments relating to the analytics of baseball.
CTE program pairs teens, preschoolers for STEM learning (Education Dive) 
Miami-Dade County Public Schools launched a preschool coding and robotics program in some of its child care centers, using high school students to help with the teaching, according to District Administration. The older students are part of a program that trains them to become child care professionals. Older and younger students worked with KinderLab Robotics' KIBO Blocks — simplistic coding toys, which, when rearranged, create robotic movements, and teach the first steps of coding. 
Higher Education
Ithaca College gets $1.2 million to train, recruit and retain STEM teachers (Ithaca Journal) 
Ithaca College is receiving $1.2 million in federal funding to train, recruit and retain STEM teachers, specifically from diverse backgrounds. The funding is being allocated through the National Science Foundation's Robert Noyce Scholarship Program and will be used by a program that offers stipends to potential educators while they complete a 13-month STEM teaching certification course for children in first through 12th grades.
Western Michigan only university in state to place in nationwide STEM idea contest (MLive) 
Western Michigan University was the only institution in the state among finalists in a nation-wide STEM contest. Three ideas from faculty and administrators at WMU were among 32 entries chosen by the National Science Foundation for the 2026 Idea Machine Competition. The three ideas, which could shape the future of STEM research in the U.S., were from a pool of 800 entries from across the country. 
Summer of STEM
Students put their minds to work at the JROTC STEM Leadership Academy (WKRG) 
Even though school is officially out for the summer, Mobile County Public high school students exercise their minds at Springhill College, the University of South Alabama, and various places around the community at the JROTC Leadership Academy. Susan Pruet, the head of Stemworks LLC says that the key thing for these students is to integrate science, technology, engineering and math to solve these challenges.
Summer STEM program Camp Invention comes to Scottsdale (Scottsdale Independent) 

Camp Invention, a nationally-recognized nonprofit summer STEM enrichment camp program ,will be held at Scottsdale's Laguna Elementary School, June 10-14. The summer camp, encouraging students to become future Innovators, focuses on creativity, innovation, real-world problem solving and the spirit of invention through hands-on programming. The camp helps build student confidence, leadership, perseverance, resourcefulness and problem-solving skills; and encourages entrepreneurship. 
Iowa
Reynolds announces new computer science STEM grants for elementary schools (KCRG) 
Six more elementary schools in Iowa will be receiving special computer science-related grants on top of the six that have already received them, the governor's office announced Wednesday. Gov. Kim Reynolds said that each school will receive $50,000 toward improving computer science instruction. The grants are determined through a joint effort of the Iowa Department of Education and the Governor's STEM Advisory Council. This board includes members from higher education, business, pre-K-through-12 educators, and government officials.