In today's STEMdaily, codebreaker and computer science pioneer Alan Turing has been chosen to be placed on the UK's new 50 pound note, the sudden re-location of the NIFA from DC to Kansas City has federal science research workers scrambling, Vernier ST announces new coding partnerships, Columbus State University's UTeach program receives $1.8M grant from NSF for STEM teacher scholarships, and tips for incorporating 3D Printing in the classroom.
Click here for the full 7/15 STEMdaily.
Government
USDA Agency's Relocation Could Affect Grantmaking Abilities, Union Says (Daily Yonder) 
The National Institute of Food and Agriculture (NIFA) will lose so many employees in its move to Kansas City that it could affect its ability to distribute grants to land-grant universities and other institutions, according to a press release from the union that represents NIFA workers. The American Federation of Government Employees, which NIFA workers voted overwhelmingly to join last month, says that up to 70 percent of the institute's workers might quit rather than make a permanent move from Washington, D.C., to the Kansas City area. Workers have until July 15 to decide whether to make the move.
Codebreaker Alan Turing Will Be on Britain's New 50-Pound Currency (TIME) 

Codebreaker and computing pioneer Alan Turing has been chosen as the face of Britain's new 50 pound note, the Bank of England announced Monday. Governor Mark Carney said Turing, who did ground-breaking work on computers and artificial intelligence, was "a giant on whose shoulders so many now stand." During World War II Turing worked at the secret Bletchley Park code-breaking center, where he helped crack Nazi Germany's secret codes by creating the "Turing bombe," a forerunner of modern computers. He also developed the "Turing Test" to measure artificial intelligence. 
K-12 Education
Governor launches STEM challenge for NM students (KOB4) 
Gov. Michelle Lujan Grisham is issuing a challenge to New Mexico high school students this fall. The challenge is aimed at getting students interested in pursuing a career in STEM. The challenge calls for teams of 10 students to answer how they will use science and technology to help with national security. The students with the best answers could win $500. Bethany Gruenig, a 17-year-old home-schooled student said she's excited to take part in the governor's new STEM challenge.
Vernier Announces Coding Partnerships (T.H.E. Journal) 
Vernier announced four new partnerships to give students more opportunities to grow their coding skills. The STEM education company is working with Makeblock, Google Science Journal, Google Workbench and Microsoft to add new solutions and features. Vernier is collaborating with Makeblock to teach students entry-level coding skills using Makeblock robots and STEM activities from Vernier. The Google Science Journal partnership will allow students to utilize Vernier's Go Direct sensors to help with research projects.
Initiative aims to place STEM Center in every OKC elementary school (The Oklahoman) 
Educators have been measuring the outcomes from STEM Centers for some time and have seen dramatic results in their ability to develop critical thinking skills as well as inspire an interest in further STEM education. Providing consistent and early exposure is a key factor to both, which is why Oklahoma City Public Schools (OKCPS) has prioritized placing a STEM Center in each of its 33 elementary schools.
Tips for 3D Printing in Schools (T.H.E. Journal) 
3D printing is a technology that's fast evolving and difficult to follow. To help educators get past some of that difficulty, siblings and 3D printing experts Jonathan and Stephanie Torta wrote a new book, 3D Printing: An Introduction, directed at people in education and industry who want to pick up myriad details of 3D printing and make 3D printing a part of students' learning experience. Recently, they shared tips for 3D printing that are worth understanding when you're using it in your classroom. 
Higher Education
CSU Receives $1.8M Grant to Train STEM Teachers (Columbus State) 
Columbus State University's Teach program recently received a $1.8 million grant from NSF to support 48 scholarships for secondary STEM teachers. The one-year scholarships totaling $15,000 each will be available beginning in the 2019-2020 academic year for a maximum of six students. They will then be required to teach in a high-need school district for two years for every year of funding.
HECO boosts STEM at UH Mānoa with $50,000 gift (University of Hawai'i)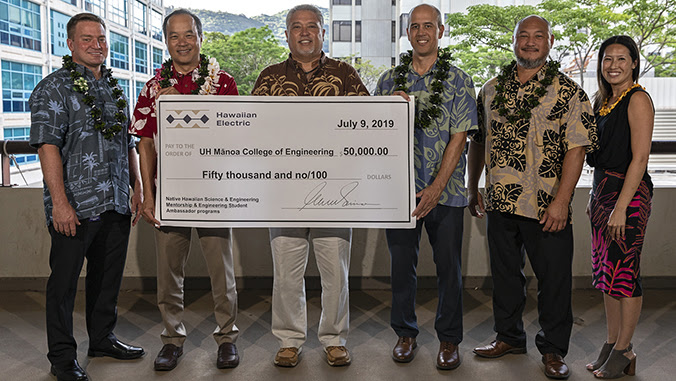 Hawaiian Electric Co. (HECO) donated $50,000 in July 2019 to the University of Hawai'i at Manoa College of Engineering in support of programs that encourage students to pursue careers in STEM fields. The Native Hawaiian Science and Engineering Mentorship Program's (NHSEMP) Freshman Bridge and the 2019 Engineering Student Ambassadors (ESA) Program are both aimed at reaching students during an important juncture in their academic lives and providing them with the resources to excel as future professionals and leaders.
Here's what the 'STEM trend' looks like at a liberal arts university like William and Mary (The Virginia Gazette) 
With centuries of history, the College of William and Mary is well known for producing scholars, government officials and even a few revolutionaries. Now, that liberal arts legacy is shifting to accommodate national trends toward science- and technology-related fields. "There's been a slight shift which reflects a national trend: more students interested in STEM areas. But one of the remarkable things about W&M and I think it's one of our strengths, is that we haven't become basically a vocational institution," he said at the meeting. "We have a lot of students getting serious, strong education in history, anthropology, sociology. We do a lot of STEM, we do it really well, but we haven't abandoned the other parts of what we do." 
Museums
Bronze statue unveiled, STEM Inspiration Center dedicated in Wapakoneta (Dayton Daily News) 

Ohio Gov. DeWine was among the dignitaries Sunday morning who gathered at the front entrance to the Armstrong Air and Space Museum in Wapakoneta for the unveiling of a bronze, life-sized statue of Neil Armstrong. It was made possible by the Armstrong family. They also cut the ribbon to the newly constructed Armstrong STEM Inspiration Center located inside the museum. The celebration of the Moon Walk continues through July 21 in Neil Armstrong's hometown of Wapakoneta, Ohio, in Auglaize County.