In today's STEMdaily, Girls Who Code release survey about challenges women face in the tech and computer science education and workplace, Wells Fargo and We Care Solar help Minnesota students build solar suitcases to help refugees in Kenya, reliability and safety concerns raised for Raspberry Pi's pi-top 3 STEM learning powered laptop, and registration opens for the 2019 Arizona STEM and Innovation Summit presented by the SciTech Institute.
Click here for the full 8/23 STEMdaily.
Diversity in STEM
For Young Female Coders, Internship Interviews Can Be Toxic (WIRED) 

…Eyre is one of more than 1,000 young women college-aged or older, hailing from 300 schools around the country, who participated in a recent survey about the challenges female engineers face while applying for technical internships. The study was conducted last fall by Girls Who Code, a nonprofit organization that educates and supports girls studying computer science, which has 30,000 college-aged alumnae and 17,000 alumnae potentially entering college this fall. The results reveal that many young women, whom the tech industry is counting on to diversify its heavily male workforce, are put off by their first encounters with tech companies.
CU Boulder researchers find five 'types' of computing students (DailyCamera) 
Researchers at the National Center for Women and Information Technology, based at the University of Colorado Boulder College of Engineering and Applied Science, wanted to analyze how community college students feel about introductory computing classes, and how that relates to gender, race and ethnicity. Instead of separating students by gender, race and ethnicity, they asked students survey questions and found there are five types of students, with varied demographics among each type.
Engineering professor promotes STEM education in Mexico (IUPUI) 

Among his many research activities, electrical and computer engineering professor Peter Schubert discovered that children tend to forge their career paths as early as age 13. When he visited Mexico City in July for the 2019 International Conference on Interdisciplinary Social Sciences, one of the IUPUI researcher's goals was to work with middle school students in bilingual schools. Schubert wanted to introduce some of his recent work to the students, in turn lighting the circuit of a STEM education and, later, a career in engineering. 
K-12 Education
UW wins grant for computer skill education training (The Sheridan Press)
As technology becomes more ingrained with everyday life, skills in computer science are becoming increasingly necessary to compete in the modern world. After recently receiving $1 million from NSF's CS for All grant, Wyoming's Schools and Libraries Integration Computer Science in Education program at the University of Wyoming is working to create three years of professional development opportunities for kindergarten-eighth grade teachers as well as public and school librarians.
Minnesota students to build solar suitcases to light up classrooms in Kenya's refugee camp (Minneapolis Star-Tribune) 

For hundreds of thousands of students living on the outskirts of Kenya's refugee camp, learning stops at sunset. After-school programs, parent-teacher conferences, evening and night classes don't exist. But soon that will change, thanks to Wells Fargo and We Care Solar, a national program that aims to end energy poverty in developing countries. Together they are bringing a new program to 10 metro-area schools and one after-school program in the fall.
Hebron computer science teacher encourages students to go above and beyond (Dallas Business Journal) 
Jared Stites, a computer science teacher at Hebron High School, teaches students computer programs to create Java programs, participate in hacking competitions and receive awards in skills like cybersecurity. Many of these skills aren't offered in classes at Hebron, so students stay after school and on weekends to learn about cybersecurity. In three years, he's grown the program to be more than 30 members, and supports an all-female computer science competition for high school students. 
EdTech
Google Launches AI-Based Mobile Learning App (T.H.E. Journal) 
Google has introduced a revamped version of the Socratic app to help students complete their homework. The app allows students to ask questions via their voices or take photos of questions, and get answers based on educational content that the app finds on the web. Using algorithms, the app can detect answers to questions and automatically provide users with information to understand the underlying concepts that they need to grasp. Socratic also provides students with lessons that can help break down concepts into smaller increments.
Reliability concerns raised over pi-top's STEM learning laptop (TechCrunch)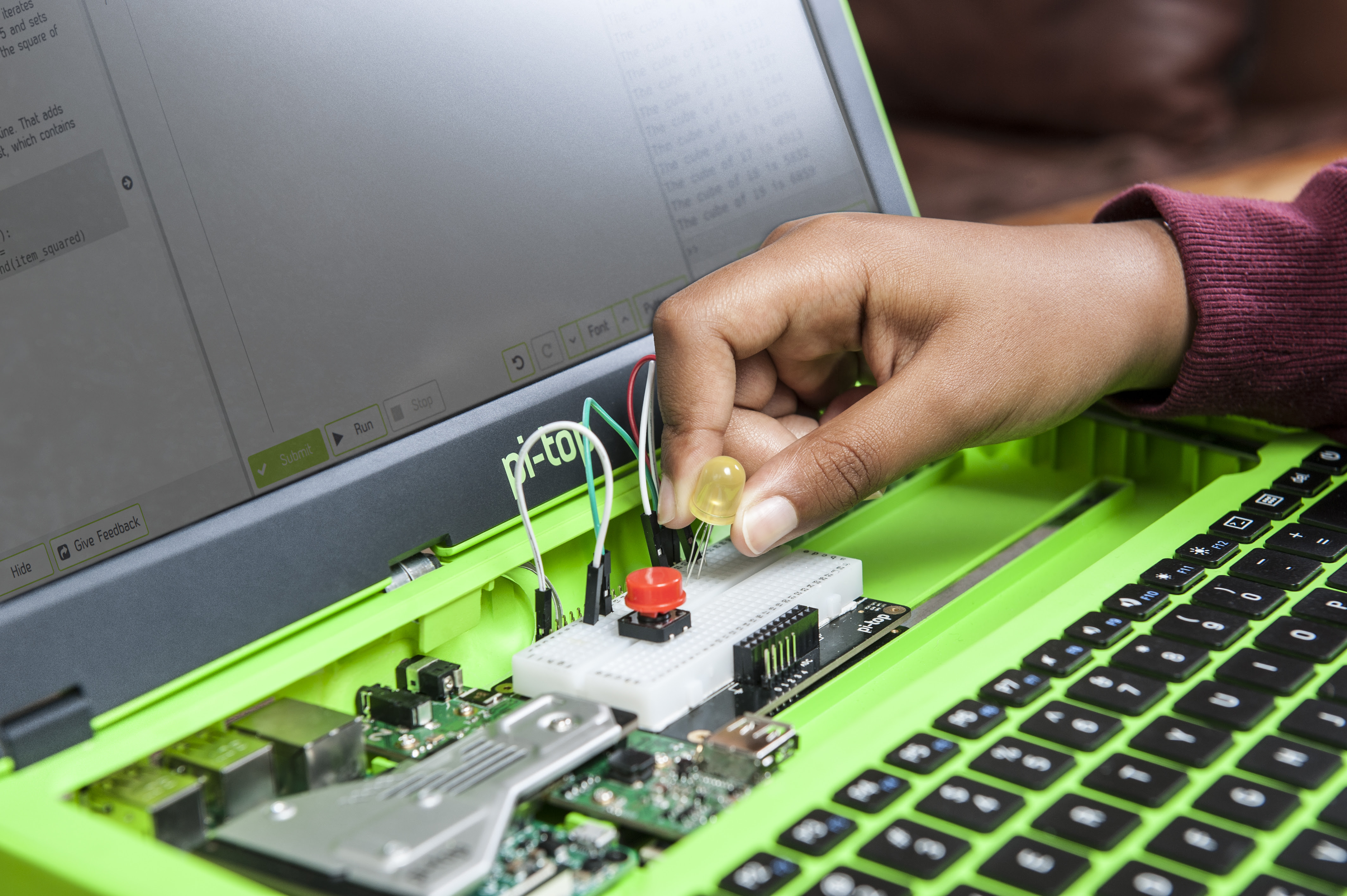 TechCrunch has learned of a safety issue and a number of product reliability questions being raised about a modular computer made by a London edtech startup that's intended for children to learn coding and electronics. The product, called the pi-top 3, is a Raspberry Pi-powered laptop with a keyboard that slides out to access a rail for breadboarding electronics. A student at a US school had to be attended by a nurse after touching a component in the device which had overheated, leaving them with redness to their finger. 
Higher Education
Mt. San Jacinto College receives funds to construct STEM buildings (Temecula Valley News) 
Funding is now in place to construct buildings oriented specifically to STEMprograms at the two Mt. San Jacinto College campuses, offering enhanced learning experiences in centralized locations, officials said on Wednesday, Aug. 21. The college is slated to receive $96 million in general obligation bond funding from CA Proposition 51, approved by voters in 2016, to construct a 36,922-square-foot STEM building at the main campus in San Jacinto, and a 41,865-square-foot complex at the Menifee Valley campus.
UC Santa Barbara-Port Hueneme partnership recognized for excellence in education (UCSB) 

For the past four summers, UC Santa Barbara and the Navy base at Port Hueneme have partnered to provide a workforce learning opportunity to science and engineering undergraduates at the university as well as those at local community colleges. The program, Problem-based Initiatives for Powerful Engagement and Learning In Naval Engineering and Science (PIPELINES), offers the students an eight-week immersive experience at the Navy base. PIPELINES teams of two community college students and one undergraduate at the university pair up with a scientist or engineer at the Navy base and a UC Santa Barbara graduate student who serve as mentors. 
Arizona
Registration open for 2019 Arizona STEM and Innovation Summit (Tuscon.com) 
What's the next big thing in science and technology? The answers can be found at the Arizona STEM and Innovation Summit presented by the SciTech Institute, an Arizona nonprofit focused on cultivating an ecosystem of conscious STEM communities through awareness, connections and empowerment, at the Scottsdale Center for the Performing Arts located at 7380 E. Second St., Scottsdale, AZ, 85251, on September 17 from 9 a.m. to 4 p.m. Registration for both exhibitors and attendees is open. Space is limited, so reserve your spot now by visiting: https://azscitech.events.idloom.com/stemsummit.