In today's STEMdaily, FIRST Lego League expands to reach younger students (4-6 year-olds),  MIND Research Institute blog shares how to incorporate math games into the classroom, NASA is considering an all-women crew for the Artemis moon mission, Ithaca College to use $1.1M NSF grant to help curb STEM teacher shortage, and the San Antonio Business Journal profiles how the Air Force Association's CyberPatriot STEM competition is addressing the cybersecurity skills gap in the region.
Click here for the full 8/28 STEMdaily.
STEM Competitions
LEGO Ed and FIRST Launch League for Younger Students (T.H.E. Journal)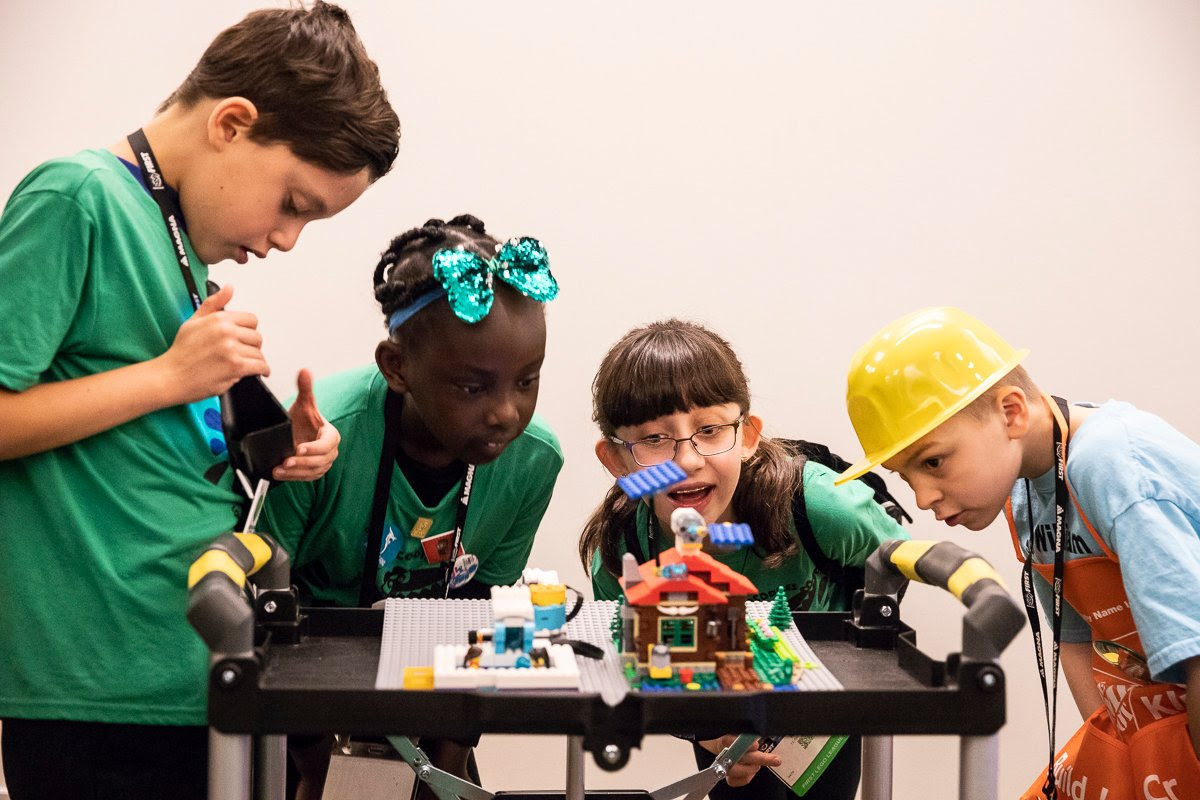 Two STEM education organizations have committed to reaching some of the youngest learners. LEGO Education and FIRST launched a new program for 4-6 year-olds. The FIRST LEGO League Jr. Discovery Edition will invite teams of four children to build a solution to a given challenge using LEGO DUPLO pieces. The goals are to help them gain confidence, begin to develop skills for facing future challenges and discover the fun of learning. During this first year, that league, along with the FIRST LEGO League Jr. (for students ages 6-10) and FIRST LEGO League (for students ages 9 to 16), will push students to explore topics related to architecture, infrastructure and sustainability of future cities.
CyberPatriot competition narrowing cyber workforce need (San Antonio Business Journal) 
As school students start nestling back into the new school year, some are starting to prepare for careers in cybersecurity through the Air Force Association's CyberPatriot competitions. "We looked at the national technical workforce shortage, and specifically here in San Antonio, this is a national security issue. Unfortunately, unlike China and other countries, we do not have a roped way of getting students to go into STEM, hence why we came up with CyberPatriot," Frank Zaborowski, director of competition operations for CyberPatriot, said during a recent presentation. 
K-12 Education
Districts launch CTE programs geared toward middle school (Education Dive) 
Exposing students to career and technical education options as early as middle school can help them better identify areas of interest and map out an educational path, District Administration reports. Districts can use grant funds to hold summer courses that introduce middle school students to different types of technical fields, with counselors playing a key role in helping guide students toward which classes to take in high school.
Preparing New Teachers: How Collaboration Across Professional Associations Can Advance Technology Infusion (AAAS) 

Despite heavy investment in STEM (e.g., STEM for ALL), most PK-20 science, technology, engineering, and mathematics instruction remains heavily siloed. To date, educators have not agreed on a clear definition of STEM. Is it curriculum or a teaching technique/pedagogy? Can a science lesson be called STEM, even if the other domains are not fully represented? As technology advocates, we think STEM curricula should have a strong representation from all four domains.
Educator Perspectives: How to Start Incorporating Games Into the Classroom (MIND Research Institute) 
In each installment of our Educator Perspectives series, we interview teachers and administrators across the country who are engaging, motivating and challenging their students in unique ways. We share their obstacles, successes and strategies so we can build a community better prepared to mathematically equip all students. From dice to educational video games, classes led by instructional technology teacher Ryan Read are increasingly full of game-based learning! 
NASA considering all-female crew for Artemis moon mission (CNET) 

NASA has been saying it wants to put the first woman and the next man on the moon for its Artemis 2024 mission. But that might change to become the first two women on the moon. NASA administrator Jim Bridenstine addressed engineering students at the University of Colorado Boulder on Friday. The school livestreamed the session on social media. A student asked near the end of the Q&A if NASA had considered sending an all-female crew for the Artemis mission. 
EdTech
Going to School While Running a Startup: When Students Build Their Own Edtech (EdSurge) 
Andrew Sutherland had no idea that the thing he programmed as a 15 year old would become a full-time profession. The kid was just trying to pass high school French. Fast forward 14 years. Quizlet, the studying tool he built in 2005, is now one of the most widely used education apps, claiming more than 50 million active users in 130 countries who have created over 300 million study sets. And unlike most education software, Quizlet has attracted a loyal following among students who often rave about its features with a passion usually reserved for sports teams and celebrities.
A 24-year-old entrepreneur was bored in science class – so she started this company (CNBC) 

Komal Dadlani was 24 years-old when she completed her Master's degree in biochemistry from the University of Chile. She loved science – but would often leave class feeling bored. "My classes were very theoretical, and they were not as engaging as I would like them to be," she told CNBC's Make It. "Then I would visit schools in Chile, and they did not have labs." Dadlani's frustration prompted an idea: A start-up that would make learning science more accessible, and fun, for students like her across Latin America, where fewer than 15% of students earn degrees in STEM. 
Higher Education
Robots and drones are clocking in on construction sites (Tuscon) 
Drone painters, robot masons and bionic workers may one day be a common sight on construction sites. Advances in artificial intelligence, coupled with an ongoing labor shortage, have construction companies looking for options to the traditional laborer. Job titles such as robotics technician and virtual construction supervisor are now listed on recruiting sites. And the University of Arizona is looking to add classes on these technical advances to its civil engineering program.
Ithaca College to use another federal grant to help curb STEM teacher shortage (CNYBJ) 
Ithaca College (IC) is using a federal grant of $1.1 million to help increase the number of "highly qualified" STEM educators. The funding was allocated through the NSF's Robert Noyce Scholarship Program, Ithaca College said in an Aug. 2 news release. Building on the success of the first grant, this funding will expand recruitment efforts, improve student-centered instruction, foster a culture of continuous professional growth, and study teacher retention and success, the school said.