In today's STEMdaily, CNET profiles Girls Who Code founder Reshma Saujani and her 2019 book Brave, Not Perfect, Clayton County Schools in Georgia nabs $1.2M Gates Foundation grant to transform math instruction, a $4.8M grant from NSF will help community college students transfer to the University of Arizona and major in STEM, applications open for APS and the Phoenix Suns' STEM Teaching Grants, and Hudson Valley Community College opens $14.5M Advanced Manufacturing Skills Center.
Click here for the full 8/30 STEMdaily.
Diversity in STEM
Girls Who Code is ready for world domination (CNET) 

When Reshma Saujani looks at the US Capitol from a building across the street, it reminds her of a story she cites often, about how she ran a primary bid for Congress in 2010 against a Democratic incumbent in New York City and lost. The Girls Who Code founder and CEO recounts the defeat in her 2019 book Brave, Not Perfect, in the speech I've just heard her give, in her 2016 TED Talk, in casual conversation. It's no wonder, because Saujani traces so much of what she's done in the years since to the moment when, at the age of 33, she walked away from a career in finance law to enter politics and try to do something she cared about.
Clayton Schools wins $1 million Gates Foundation grant for math instruction (Atlanta Journal-Constitution) 
The Bill & Melinda Gates Foundation has awarded Clayton County Schools a $1 million grant to help educators teach math to middle schoolers. The Gates Curriculum Implementation Grant will help the south metro school system develop instruction methods to improve math scores for the district of 55,000 students. It also offers teachers training to improve their skills. Clayton is one of 12 districts in the country to receive the grant, the school system said. According to the Gates Foundation website, the grant is designed in particular to support improvement in middle and high schools with at least 50 percent black, Latino or emerging multilingual English-learning students in California, Florida, Georgia, New York and North Carolina.
State's biotech industry aims to spark girls' interests in science long before high school (Boston Globe) 
The sun is glistening off Boston Harbor, but Rubi Garcia, 13, is not focused on the view out the window. Instead, she is peering into a microscope and examining DNA suspected to be affected by sickle cell disease. Garcia, wearing a classic white lab coat, was among half-dozen middle-school-age girls who spent a month at Vertex Discovery Camp, a summer program that included time in a lab at the Boston biotech headquartered in the Seaport District. To build the pipeline of women in science, the Massachusetts biotech industry has adopted something of a mantra: Get girls hooked on science when they're young, and the more the better.
Building a Bridge to STEM Degrees for Transfer Students (University of Arizona) 

A $4.8 million grant from NSF will help create a stronger path for Pima Community College students who transfer to the University of Arizona to pursue bachelor's degrees in STEM fields. Over five years, the grant will provide scholarships to 94 eligible students who are pursuing associate degrees at Pima Community College with the intention of transferring and completing Bachelor of Science degrees at the University of Arizona. Both schools are Hispanic-Serving Institutions, recognized for success in enrolling and supporting Hispanic students. 
K-12 Education
Applications open for teacher STEM grants from APS, Phoenix Suns (AZEdNews) 
For 14 years, APS and the Phoenix Suns have partnered with some of the most innovative teachers across the state to provide grants for projects that are engaging students and showing them the paths that lie ahead in exciting STEMcareers. APS and Phoenix Suns are now accepting applications for STEMTeacher Grants for the 2019-2020 school year at http://bit.ly/2N5L0Ro. APS and the Phoenix Suns have contributed more than $500,000 since the program began in 2005 to enhance STEM education in Arizona schools. Each year, the STEM Teacher Grants program provides grants of up to $2,500 per teacher with a total of up to $50,000 available during the 2019-20 school year.
STEM students getting hands-on experience working in the space industry (WIVB) 
Local students are getting hands-on experience working in the space industry. Four students from Buffalo are participating in the Western New York STEMHub's Take Flight program. This started as a science experiment for students in PS 198 International Preparatory School. A national panel of experts selected that experiment, and the team got to launch it to the international space station. Students sent bacteria to space to see how it reacts to micro-gravity testing. They also kept one on earth to see the difference between the two.
STEM And STEAM Education: Why We Need Them (Forbes)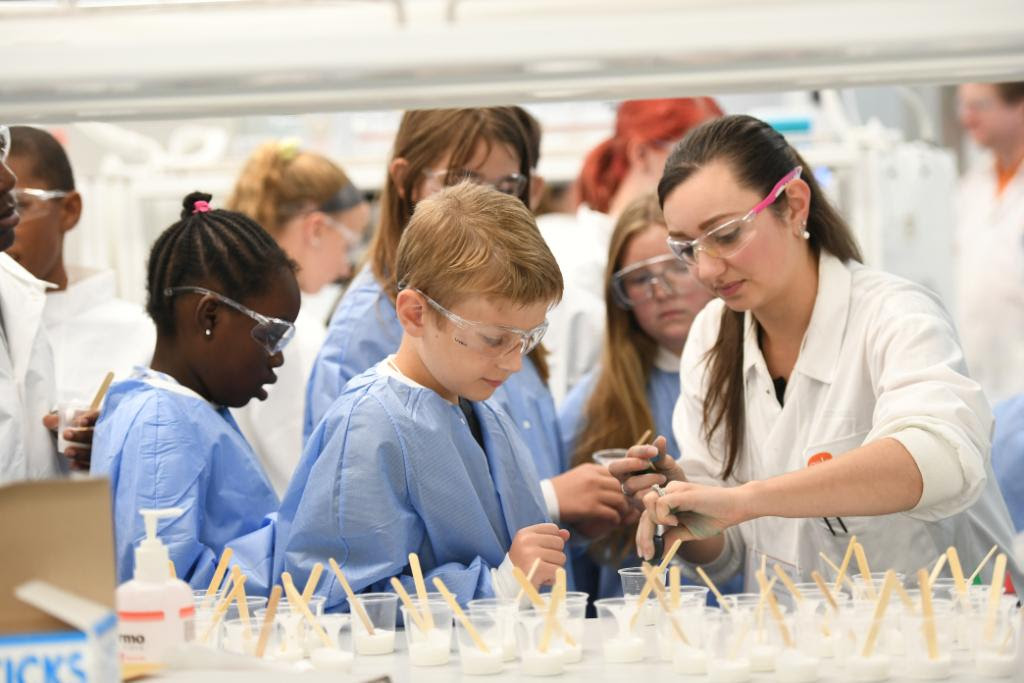 In 1986, Glaxo Smith Kline (GSK) scientist Virginia Cunningham created a summer science program to bring more girls and minority students into STEM. Thirty years later, the GSK Science in the Summer program has exposed more than 300,000 vulnerable and underserved students in grades two through six to STEM programming around the country. The GSK Science of Summer program is funded by GSK and two million in grant funding annually. It's administered through The Franklin Institute in Philadelphia and the UNC Morehead Planetarium in North Carolina. 
Higher Education
Research approach to increase student retention in STEM (DailyEvergreen) 
Washington State University faculty hopes to increase student retention in STEM using a research approach to ensure higher rates of involvement in resources and programs available to students. Candis Claiborn, professor in the department of civil and environmental engineering, said there will be several phases consisting of a preliminary, preparatory and two main phases for the project starting Sept. 1. She said she will look at the National Survey of Student Engagement (NSSE) data from the engineering departments of WSU and Utah State University.
HVCC opens $14.5 million Center for Advanced Manufacturing Skills (WNYT) 
Hudson Valley Community College is hoping a new facility will propel the school and its students into the future of advanced manufacturing. Over the next decade, 4.6 million manufacturing jobs will likely be needed. More than half of them will likely go unfilled because of a skills gap, but HVCC thinks the new facility will put a dent in that number. The official ribbon cutting and the confetti cannon blast that followed signals an important milestone on the Hudson Valley campus. 
Tennessee
Stroecker Promoted to Network Director (Tennessee STEM Innovation Network) 

TSIN is pleased to announce that Brandi Stroecker has been promoted to serve as the Network's Director. Stroecker previously served as TSIN's Director of Education Strategy and Outreach, in which she led key Network programming and served as the Network's liaison to the Tennessee Department of Education. In her role as Network Director, Stroecker will set the vision for the Network and ensure alignment of programming to statewide needs. "I'm honored for the opportunity to serve as the Network lead," said Stroecker. "It's an exciting time for STEM education in Tennessee. I look forward to fostering new and existing partnerships, while advancing the collective impact of our work to promote greater equitable access to STEMopportunities for educators and students across the state."