In today's STEMdaily, Forbes profiles Justin Shaifer who will host WGBH's Escape Lab, a new live science game show on Twitch, a teacher in Battle Creek, Michigan has incorporated partner portions on math exams to reflect collaboration in real-world STEM problem solving, a teacher in Cobb County Georgia shares how their school transitioned from STEM to STEAM, and Virginia Tech is taking a research and data-driven approach to e-scooter implementation on campus.
Click here for the full 9/3 STEMdaily. 
Step Aside Bill Nye & Neil deGrasse Tyson. Justin Shaifer Is The Emerging STEM Personality We Need to Hear (Forbes) 

Justin Shaifer is not the average science guy we've come to expect on shows. There's no pretense to detect and his delivery matches the youthful swag of generation who grew up when hip-hop went mainstream. His kid-friendly, science loving alter ego Mr. Fascinate, who makes science look cool, is more so the "science bro" than the science guy. But what he shares with the best of them is an unyielding joy to share the wonders of science and a knack for words that demystify their complexities. Starting in September, Shaifer will host WGBH's Escape Lab, a new live science game show on Twitch. 
K-12 Education
How Revising Math Exams Turns Students Into Learners, Not Processors (Mind/Shift) 

Teacher Sandra Cover glanced up at the sound of cheers. Two juniors slapped their hands together in a triumphant high-five, like doubles players celebrating a tennis victory. In reality, the girls had just solved a proof on a trigonometry exam. For their teacher, the moment was as sweet as scoring a match point, because it showed how much her students' relationship to math had changed in the past year. Cover began incorporating partner portions for trig tests a few years ago to reflect the collaborative nature of real-world problem-solving.
Grant Enables Georgia State Professional Learning Partnership (T.H.E. Journal) 
Georgia State University's College of Education and Human Development (CEHD) is partnering with Clayton County Public Schools and Curriculum Associates to explore strategies for teaching math in the county that benefit both teachers and student outcomes. The new program is supported by a two-year, $1.2 million grant to CEHD from the Bill and Melinda Gates Foundation. CEHD faculty and doctoral students will collaborate with master teachers and coaches to provide supplemental support to Clayton County middle school teachers who are implementing in the county's math curriculum in their classrooms.
How our school transitioned from STEM to STEAM (eSchool News) 
Imagine this: You're a teacher at a school that's been on board with STEM since the first little whispers about how it can provide unique learning experiences centered on 21st-century skills. You and the other teachers at your school encourage students to stretch their critical thinking skills and complete projects, but after a couple of years, the STEM program has lost its zest. It needs to grow and to work better for staff and students – but no one is quite sure what would add that extra spark. That's what led us to infuse arts into our STEM program. 
Higher Education
For Virginia Tech's transportation woes, e-scooters could do the trick (edscoop) 

Virginia Tech has turned its Blacksburg campus into a living laboratory as researchers try and determine if electric scooters could help solve transportation challenges facing students. Partnering with Spin, a Ford-owned micromobility company, the university is set to deploy a fleet of e-scooters on Sunday as part of a pilot program to identify and address issues related to scooter use before committing to a large scale deployment. "Rather than just deploying [e-scooters] and seeing what happens, we're trying to take a very data-intensive look at it," Mike Mollenhauer, director of the Center for Technology Implementation at VT.
Univ. of Pennsylvania launches cybersecurity boot camp (edscoop) 
Following a national trend, engineering and professional studies schools at the University of Pennsylvania have partnered to offer a new cybersecurity boot camp program that will begin offering courses this Nov.. Announced earlier this month by the university's School of Engineering and Applied Science and College of Liberal and Professional Studies, the 24-week program is designed to give the region's cybersecurity workforce an injection of technical talent. According to the university, there are more than 10,000 open positions in the Philly area that require cybersecurity skills. 
Diversity in STEM
Girls are just as good at STEM, study finds (Cosmos Magazine) 
A study, published in the journal Nature Communications, shows that females are better than males at sustaining their performance on longer tests involving maths and science, hence reducing the gender gap. After giving females 15 minutes longer on maths and computer science exams, Oxford Univ. declared a commonly held view that "female candidates might be more likely to be adversely affected by time pressure." But this new study proposes: "female students might make better use of the extra time on the test because of their ability to sustain performance". 
EdTech
Vernier Adds Human Physiology Tools (T.H.E. Journal) 
Vernier Software & Technology is introducing two new sensors to supplement its Human Physiology Experiments lab book. The Go Direct Spirometer and Go Direct Blood Pressure sensors will give students hands-on experiences with data collection. With the Go Direct Spirometer, students can record human respiratory flow rate and volume using Bluetooth wireless technology or USB. The sensor can also measure air pressure and respiration rate.
Udacity taps LendingTree exec Gabriel Dalporto as new CEO (Education Dive) 
Udacity, an online education company offering short-term "nanodegrees" in technology fields, this week announced Gabriel Dalporto as its new CEO, following a spate of layoffs and restructuring. Co-founder Sebastian Thrun was leading the company after former CEO Vishal Makhijani stepped down in October. The former LendingTree executive was tapped "to lead Udacity into (its) next phase of growth," Thrun wrote in a blog post, which noted a recent shift to a subscription payment model and the expansion of its mentoring program have been positives for the eight-year-old company.
Coursera makes its first acquisition, Rhyme Softworks, to power new Coursera Labs offering (TechCrunch)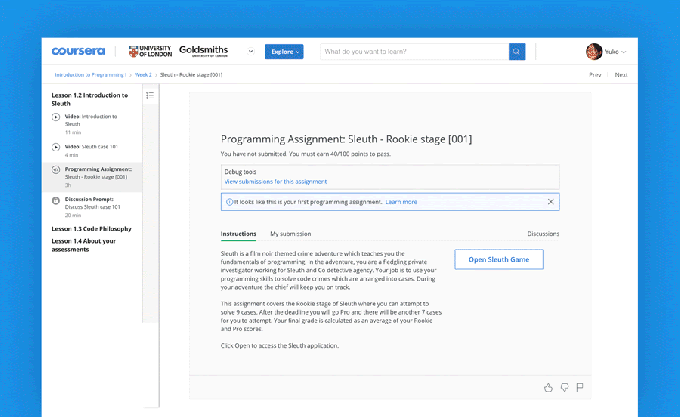 Coursera, the online education platform now valued at more than $1 billion, has made its name through its popular e-learning programs, working with some 190 universities and big names like Google to bring some 3,600 courses and 14 degrees online, attracting 43 million learners to date. Now, it's taking a significant step in its development. First, Coursera has made its first-ever acquisition, of a startup called Rhyme Softworks, which has built a platform that lets developers build hands-on, virtual e-learning projects that can be executed from a user's internet browser.