In the Tuesday 2/9 edition of  STEMdaily, we start off with a STEM jobs feature about LinkedIn's 2019 Global Talent Trends report and the importance of "soft skills", how rural STEM companies are struggling to find talent, and how schools should train students not knowing what jobs will be automated in the future or what new jobs will exist. Other STEM news stories include how biology class animal dissections are going virtual, how robotics and computer science higher ed programs are appealing to non-STEM students, and some upcoming STEM diversity events!
Link to the full version of 2/9 STEMdaily: http://bit.ly/2t78uuo.
How do schools train for a workplace that doesn't exist yet? (Hechinger Report) 

We've all heard the dire predictions about the coming robot apocalypse. Automation threatens 47% of jobs. As many as 800 million people worldwide could be displaced and need to find new jobs by 2030. Middle-class families will be hit the hardest. Chris Burns has heard these sorts of predictions, too. He's also seen just how fast changes are happening in his own industry, information technology. He works for a business near Cincinnati that sells cloud computing and other technology services, and he says there is a big shortage of skilled IT employees both nationally and in his metro area.
LinkedIn research reveals the value of soft skills (Fast Company) 
One thing is for sure: We're pretty much all on the same page when it comes to the importance of soft skills. LinkedIn's 2019 Global Talent Trends report showed that 92% of talent professionals and hiring managers say that soft skills are just as important–or more important–than hard skills. Creativity, persuasion, and collaboration are the top three most in-demand soft skills for companies today.
With Unfilled Jobs, Businesses Push Rural Residents Toward College (KQED) 

When the Chemours chemical plant in New Johnsonville, Tenn., needed workers to maintain its high-tech machinery, it advertised for them as far as 90 miles away in Nashville in one direction and 150 miles away in Memphis on the other. It still couldn't fill the jobs. "You just can't find anybody because people don't want to come that far," said Gregory Martz, manager of the facility, which makes a quarter of the nation's supply of titanium dioxide used in everything from paints to plastics and paper.
Diversity in STEM
Prof. Anthony Carpi, Helping Minority Students Become Tomorrow's STEM Leaders (CUNY John Jay College of Criminal Justice) 
As Associate Provost and Dean of Research for John Jay College of Criminal Justice, Anthony Carpi, Ph.D. knew the College's status as a Minority Serving and Hispanic Serving Institution made him well suited to serve on a special committee for the National Academies of Sciences, Engineering and Medicine. The committee produced the report, "Minority Serving Institutions: America's Underutilized Resource for Strengthening the STEM Workforce," which was released last month.
What STEM Companies Can Do To Build A More Gender-Balanced Workforce (Forbes) 
Damon Runyon Cancer Research Foundation is a non-profit organization that uses 100% of its donations to fund young scientists in pursuing innovative cancer research. Since its founding in 1946, the Foundation has invested over $360 million in funding more than 3,700 researchers. As the President and CEO of Damon Runyon, Dr. Yung S. Lie is making it her mission to promote STEM education and encourage more women to enter into STEM careers.
West Point to hold STEM Workshop for youth at SC State (Charleston Chronicle) 
South Carolina State University will be the venue of a one-day Leadership Ethics and Diversity in STEM Workshop with hands-on, small and large group STEM activities presented by West Point staff members, STEM professionals and West Point cadets, to be held February 8 from 8 a.m. – 2:30 p.m. SC State biological and physical sciences students and ROTC cadets will also help facilitate STEM activities.
Higher Education
Developing Robotic Kids (T.H.E. Journal) 
Rose Lam is heading to her first year of university. She'll be attending the University of Minnesota Twin Cities campus, with the intention when it's time of declaring graphic design as her major. And what's interesting about that major, said her mom, Krispen Lam, is that along with drawing, color and visual presentation classes, she'll also be required to take computer science in the mix. "It's assumed that you will be doing website design, and you need at a minimum to know how to talk with the people doing the coding."
Wake Tech initiative will spread to all NC community colleges (Triangle Business Journal) 
A tool that resulted in a dramatic spike in graduation rates at Wake Technical Community College will be implemented at all of North Carolina's 58 community colleges – possibly boosting the state's graduate population. This week, the N.C. Community College System announced the $554,000 gift from the Belk Endowment to be used for the expansion of Wake Tech's "Finish First" initiative.
K-12 Education
Biology Class Dissections to Get Virtual Treatment (T.H.E. Journal)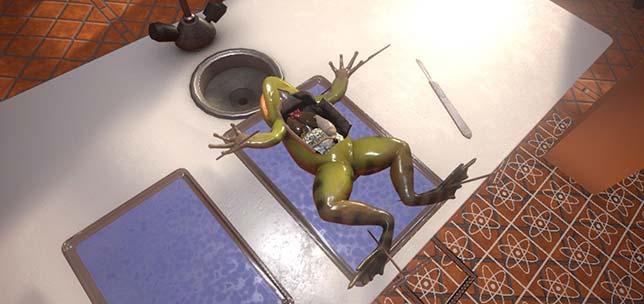 Two companies have teamed up to provide students with options to perform real or virtual dissections. Carolina Biological Supply is working with VictoryVR on the project. The first company provides supplies for science programs in K–12 and higher education; the second company develops virtual reality content in several segments, including education. While dissections are an integral part of most biology classes, many states now have laws in place that give students the right to opt out of animal dissections.
New early-college high school to pair students with neuroscientists (Hechinger Report) 
Six Florida high school students are spending this year at the prestigious Max Planck Florida Institute for Neuroscience, learning data science techniques and how to use them to analyze images of the brain. The students are in a pilot class of what will become the Max Planck Academy, set to enroll between 35 and 50 high school juniors in 2020. These students, admitted based on the strength of their applications to the public, tuition-free academy, will get an individualized course load based on their interests, as well as the chance to participate in active research alongside doctoral students and scientists at the institute.