On Thursday, March 8, leaders from around the globe virtually convened to share insights and best-practices for moving more women into leadership roles within engaging STEM careers. Reflecting on the importance of International Women's Day and Women's History Month, Women from QBE Insurance, Boeing, Catalyst, Inc., Ford Motor Company, and S&P Global discussed initiatives within their organizations that are changing the conversation for women in leadership positions. We celebrated the success of the Million Women Mentors movement and shared specific calls to action we can all take to build on this incredible progress. Watch the video and then read up on some key takeaways from the webinar and learn more about our speakers below. You can also download the slides from the presentation here!
Key Takeaways
The Million Women Mentors movement has celebrated over one million completed mentor relationships and continues to motivate and inspire women to pursue and succeed in STEM careers.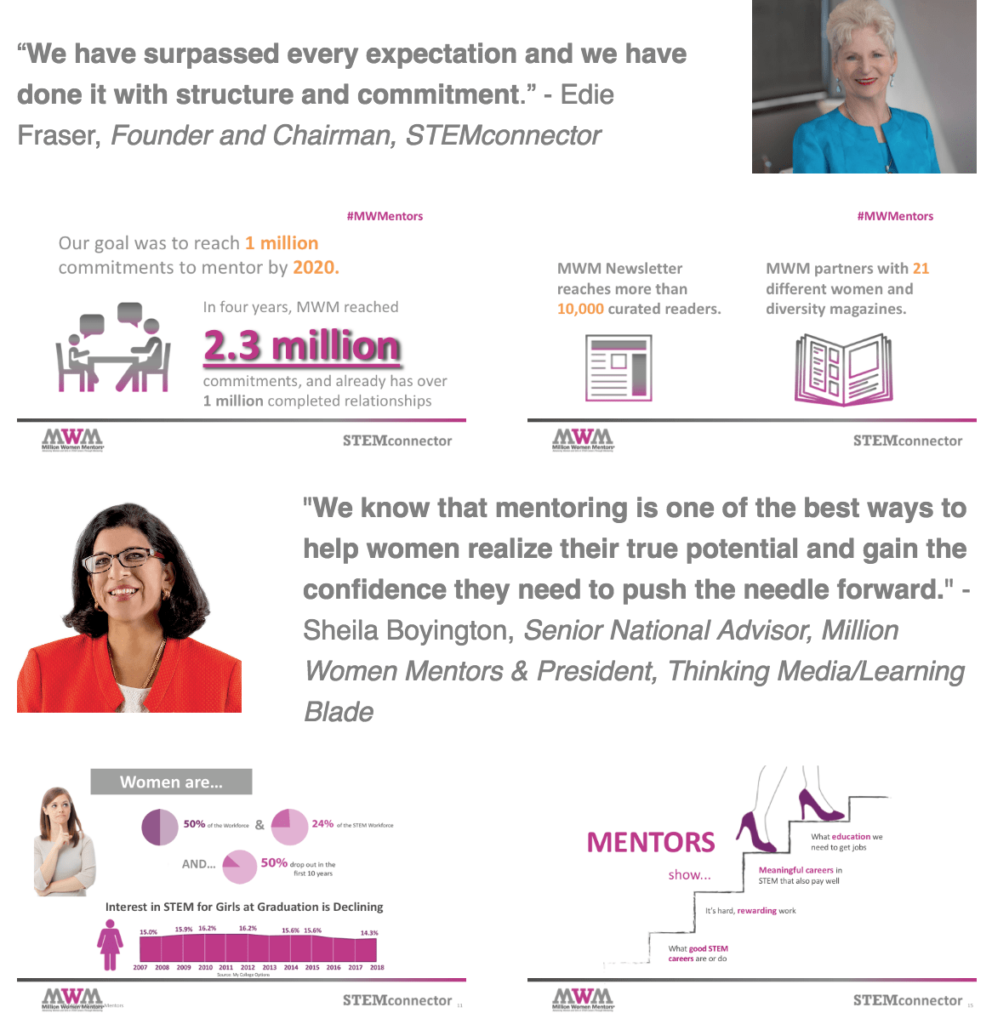 The Million Women Mentors' Women in Insurance Initiative is working to create gender parity across the insurance industry through collaboration and partnership between sector leaders.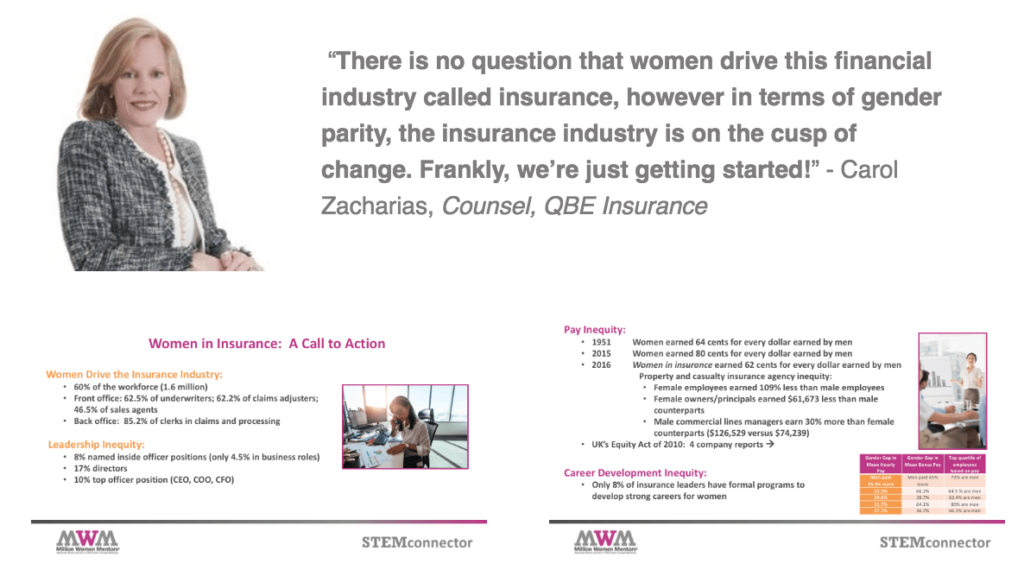 Change cannot happen unless everyone, especially men, are included in the conversation.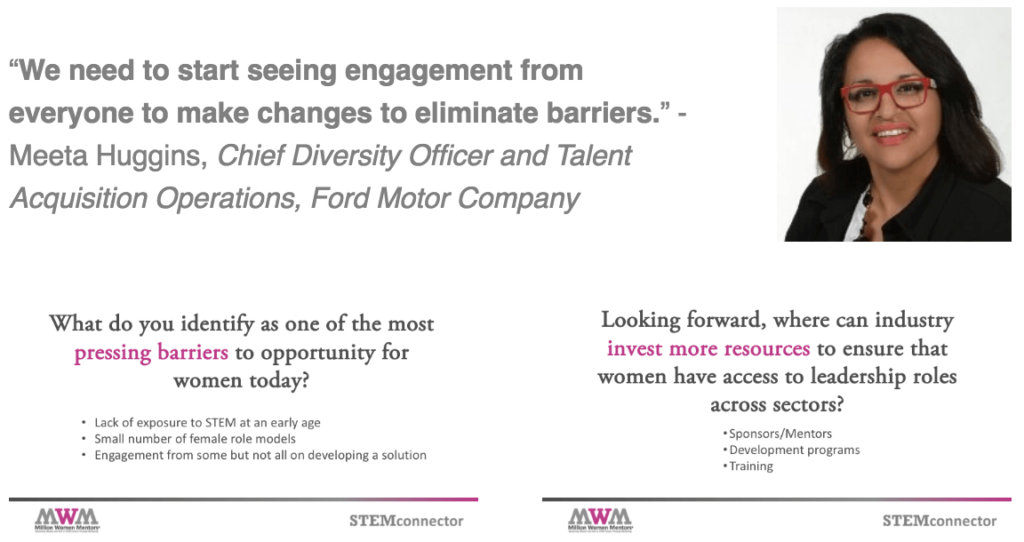 Progress in the boardroom requires increasing opportunities for women from a young age, including education, mentorship, and role models.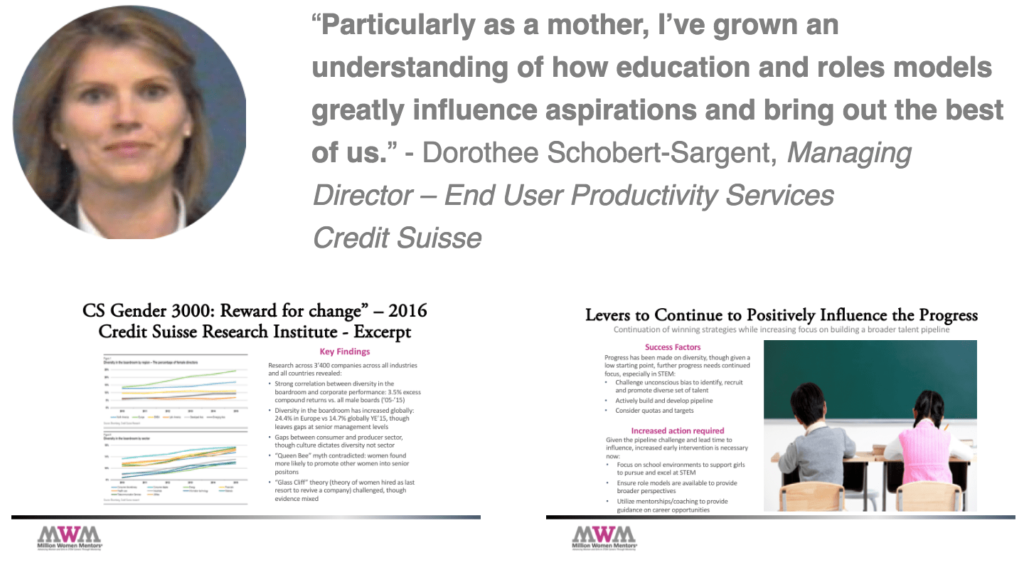 We have an opportunity to add 5-10% to nominal GDP by attracting more women to the workforce.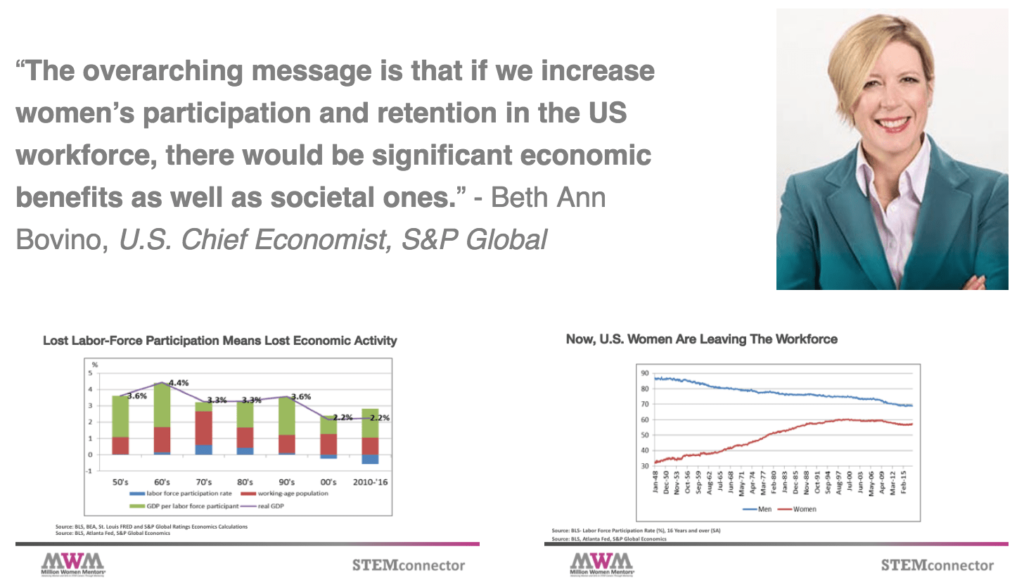 An inclusive culture can inspire women to rise to meet new challenges and seek opportunities.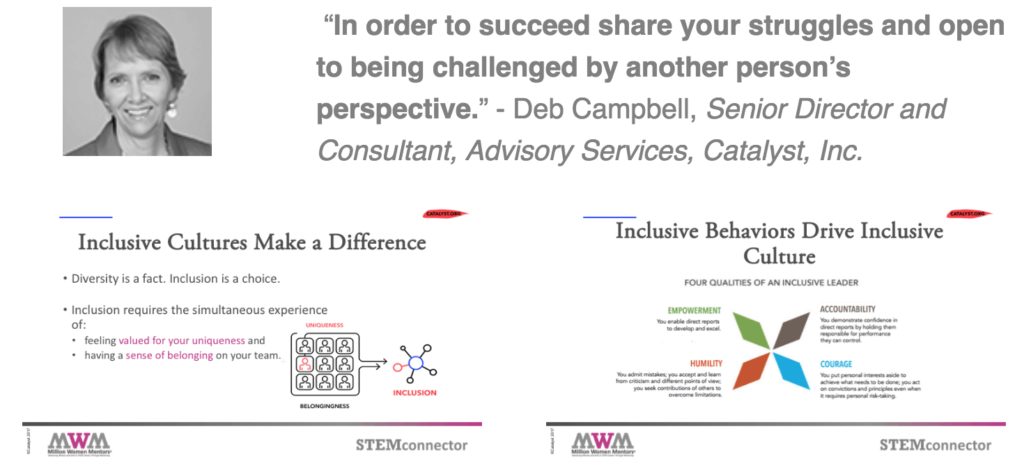 "Women in technology, are enablers for change; progression, evolution, delivery are all key indicators for the success of what we are doing."- Priscilla Christopher, Executive Chief of Staff – Business and Supply Chain Systems, Boeing.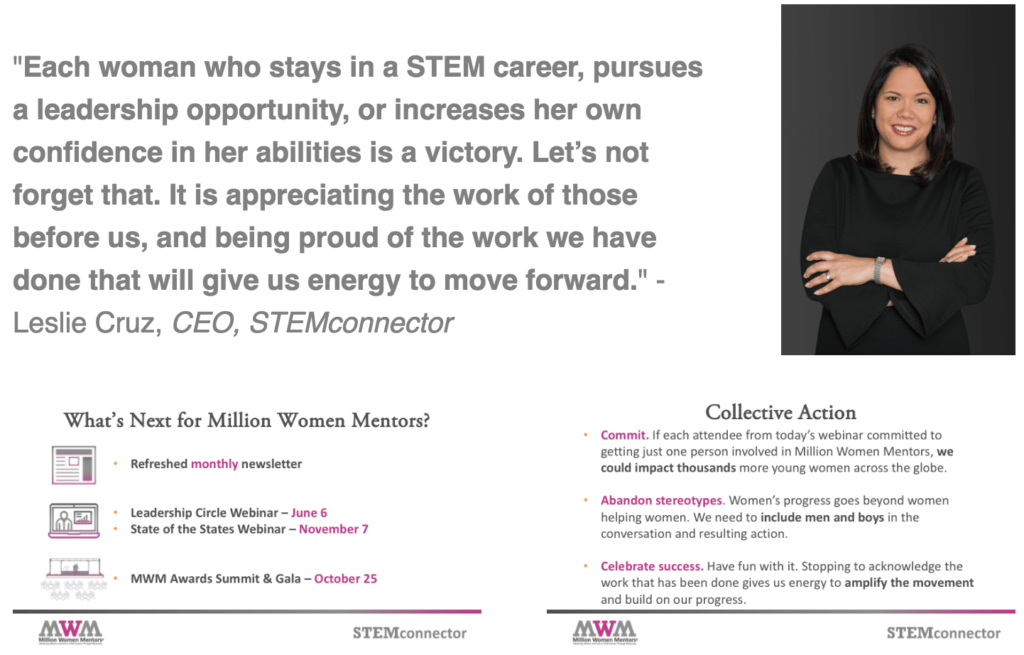 International Women's Day Webinar Speaker Bios
Edie Fraser, Founder and Chairwoman, STEMconnector, and Vice Chairman, Diversified Search: Edie built three best practices initiatives: Diversity Best Practices, Business Women's Network, and Best Practices in Corporate Communications as CEO of the Public Affairs Group, Inc. She has worked with more than 250 Fortune companies on women and diversity leadership. She started her career with five years in the Peace Corps, and has written many books, papers, and articles including Do Your Giving While You're Living.
Sheila Boyington, Co-Founder and President, Thinking Media. Sheila is a National Senior Advisor for STEMconnector and National States chair for Million Women Mentors. Thinking Media was the creator of ACT's KeyTrain® system for WorkKeys® and she served as Vice President of ACT following the acquisition of KeyTrain by ACT. She is well-known for her passion, strong management and leadership skills that were used to gain high adoption of the Thinking Media tools and are being used to build MWM state efforts.
Carol Zacharias, Senior Vice President, QBE Holdings: Ms. Zacharias served as Senior Vice President and Chief Counsel, ACE Professional Risk of Chubb Limited since April 2, 2003. She previously served as Deputy General Counsel to Ace North America, now part of Chubb Group of Insurance Companies. Based in New York City, Ms. Zacharias is underwriting counsel for Diversified Risk. Ms. Zacharias has been a Director of ACORD Corporation since January 2017. Ms. Zacharias is a frequent industry speaker and has written a variety of articles for leading industry periodicals.
Meeta Huggins, Chief Diversity Officer and Talent Acquisition Operations, Ford Motor Company: Meeta Huggins was appointed Ford's Chief Diversity Officer in August 2015. She is responsible for leading the development and implementation of Ford's global diversity and inclusion strategy – bringing diverse strengths, backgrounds and perspectives together to achieve business initiatives on a global basis. This includes attracting diverse talent that aligns with the company's strategic priorities as well as build the workforce of tomorrow.
Dorothee Schobert-Sargent, Managing Director- End User Productivity Services, Credit Suisse: Dorothee (Doro), based in Zurich is the head of Productivity Services within the End User Services organization, providing desktop, mobile and remote access services worldwide.  Doro is also an advocate for the proliferation and enhancement of STEM studies for girls. Her own interest in the sciences and technology flourished in an all-girls educational environment that delivered a diverse range of role-models that empowered her to pursue strengths and interests outside of the common mold and 'norms' of the day.
Deborah Campbell, Senior Director and Consultant – Global Marketing Services, Catalyst, Inc.: Deborah enables Catalyst supporter organizations to increase innovation, improve decision-making, and bolster their competitive position by advancing talented women into leadership. As a member of Catalyst's Global Member Services practice and an experienced consultant, she partners with corporations and firms to design and implement inclusion strategies that deliver business results. With passion and expertise in accelerating progress for women in STEM, Deb regularly advises organizations where STEM roles are critical. Deb is a motivating speaker and workshop facilitator.
Beth Ann Bovino, U.S. Chief Economist, S&P Global: Beth Ann is the U.S. Chief Economist at Standard & Poor's Ratings Services, based in New York. In this position, she develops S&P's U.S. economic forecasts and authors the monthly U.S. Economic Forecast, the quarterly U.S. Risks To The Forecast, the weekly Financial Notes and the Weekly Economics Call. Beth Ann has created Industry Drivers reports for analyst research. She is quoted regularly in the press and has appeared on many major television programs. Further, she has written many articles for popular and professional publications.
Priscilla Christopher, Executive Chief of Staff – Business and Supply Chain Systems, Boeing: Priscilla is a detail-oriented Information Technology Professional skilled in data warehousing, analytics, and leadership utilized to support HR, finance, supply chain, and engineering programs. In recognition of her excellence, Priscilla is a winner of the Women of Color in Technology-STEM award for The Boeing Company's Engineering Operations & Technology segment. Priscilla has an extensive educational background in Information Technology with a Bachelors of Science in Computer Science, and a Masters in Information Systems (MSIS).
Lakshmi Eleswarpu leads Business & Supply Chain Systems and is driving Boeing's second century strategy of systems and applications in the global supply chain, supplier management and corporate functions.  She is responsible for Enterprise Supply Chain Systems and Corporate Business Systems (Finance, Human Resources, Legal, Government Relations, Boeing Capital Corporation, International Business and Shared Services Group) across Boeing Commercial Airplanes; Boeing Defense, Space & Security; and Boeing Global Services business units. Eleswarpu graduated with a B.S. in electrical engineering from the University of Akron and is a member of Tau Beta Pi, Eta Kappa Nu and the Society of Women Engineers.
Leslie Cruz, CEO, STEMconnector: Leslie leads the firm's strategy and operations and engages leaders across public and private sectors who collectively are re-envisioning the workforce and identifying strategies to increase the number of STEM-ready workers in the global talent pool.  Leslie's goal is to inform, stimulate, counsel and connect leaders with a passion for and commitment to closing the STEM-ready gaps in education and work. With deep experience in the technology sector, Leslie is no stranger to how critical a STEM workforce is to the country's human capital strategy and ability to participate in the global economy.