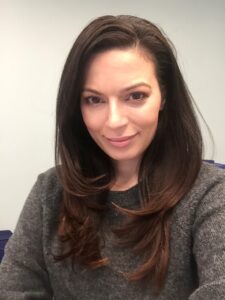 STEMconnector's VP of Client Services, Ted Wells learns more about Regeneron's Science Talent Search from Potoula Stavropoulos, Regeneron's Director of Social Impact.
TW | STEMconnector:  First, can you tell us a bit about Regeneron and why STEM is so important to the company?
PS | Regeneron:  Regeneron is a leading biotechnology company that invents life-transforming medicines for people with serious diseases. Our unique ability to repeatedly and consistently translate science into medicine has led to nine FDA-approved treatments and numerous product candidates in development, almost all of which were homegrown in our laboratories.   Regeneron was founded and has been led for over 30 years by physician-scientists with the goal of transforming lives through science.
Every day, our people are harnessing the power of science to improve human life. We extend that positive impact into our communities by harnessing the collective power of our people to make a difference. Our most important social commitment is fostering the next generation of scientific leaders. We believe that investing in scientific talent is an investment in our collective future.  Our most significant philanthropic commitments are in the area of science education, including the Regeneron Science Talent Search and the Regeneron International Science and Engineering Fair (ISEF).
TW | STEMconnector:  How does Regeneron's investment in the Science Talent Search fit into its STEM talent development strategy?
PS | Regeneron: Regeneron is deeply committed to building equitable pathways to science research for high school students, supporting their preparation, and ultimately their persistence in STEM careers.  Our STEM education outreach and equity strategy aims to expose, equip and elevate the best and brightest minds in science research, attract more students to science careers and ensure a diverse pool of STEM talent.
Through the Regeneron Science Talent Search, we are celebrating and elevating young scientific innovators, because we believe scientists are true heroes. Never has that been more apparent than now. Science has been at the forefront of how we are confronting COVID-19, and it has shaped how we've lived, learned and worked for the last year. We need to be sure that the world's most brilliant minds are focused on developing the solutions to our world's biggest challenges, today and in the future. Now in the fifth year of our $100 million, ten-year title sponsorship, the Regeneron Science Talent Search, a program of Society for Science (the Society), is one of the many ways we continue to cultivate, challenge and reward top scientific talent in the U.S. Amplifying our efforts, in 2020 we were proud to expand our partnership wiSociety to become the new title sponsor of the International Science and Engineering Fair (ISEF), the world's largest pre-college science and engineering competition, with a commitment of approximately $24 million over five years.
TW | STEMconnector:  What do you see as the greatest benefits of the Regeneron Science Talent Search to the greater scientific community?
PS | Regeneron:  We are cultivating a diverse and inclusive community of next-generation scientific leaders. To be globally competitive, and to ensure that today's students are able to compete and excel as tomorrow's workforce, we need to nurture the desire within students to become scientists, engineers and inventors. And, we need to support access to quality STEM education and research experiences that will prepare them for success. Regeneron Science Talent Search encourages curiosity and brings together exceptional student leaders and innovators to build relationships and foster a network of our nation's most promising leaders in the scientific community. Competition alumni have gone on to have world-changing careers in science and earn some of the most esteemed honors, including the Nobel Prize, the Fields Medal, the National Medal of Science, the MacArthur Fellowship and even an Academy Award.
TW | STEMconnector:  How does this investment support Regeneron's connection to its next generation of innovators?
PS | Regeneron:  Our foremost commitment is to nurture scientific potential and supporting the best and brightest minds in making important scientific advancements and coming up with the solutions to tackle existential threats. Beyond helping to make this indelible mark on society, we recognize that cultivating scientific talent is key to ensuring a diverse STEM workforce. Regeneron offers numerous early talent development and pipeline programs, from high school mentorships to college internships to co-ops, that aim to identify and prepare students with real-world industry experience. We work to engage the students we reach through our STEM education programs, like the Regeneron Science Talent Search, in these opportunities at Regeneron.
TW | STEMconnector:  Can you speak to some of the other STEM investments that Regeneron makes?
PS | Regeneron:  Regeneron invests in STEM outreach and equity programs to help increase access to hands-on STEM learning and science research experiences, bridge opportunity gaps for students from backgrounds historically underrepresented in the science fields, as well as improve the effectiveness of STEM teachers. Through initiatives like the Regeneron DNA Learning Center, a program of Cold Spring Harbor Laboratory, and sponsorship of BioBus and its mobile labs and BioBase research labs, we are providing middle and high school students with hands-on science experiences through schools, summer camps and extended inquiry-based research programs.
We recently partnered with Base 11 to support national efforts to empower high potential, underrepresented and low resource students with the mindset and skills needed for STEM careers. We further support science research education initiatives for students in underserved communities, such as our work with Yonkers Partners in Education (YPIE) to develop the Regeneron Science Research program, to increase access and opportunities for students to pursue independent science research and earn college credits. In addition, we are now working with Northeast STEM Starter Academy to establish a science research program and science fair in Mount Vernon, NY. Teachers need support, too!
We support a number of programs that aim to ensure that teachers are well-prepared to effectively teach and encourage a STEM culture in their classrooms and beyond. Through our support of Advancing Science Research Teaching, an initiative of the Westchester Science and Engineering Fair, high school teachers nationwide have the chance to start or scale up their STEM research programs. This year, we are partnering with National Alliance for Partnerships in Equity to support their efforts in equipping educators through professional development to help address unconscious bias and support student career readiness and success.