By Dr. Angela Hemingway, Executive Director, Idaho STEM Action Center
Roughly one in four Boise State University student-athletes are STEM majors, so the Broncos teamed up with the Idaho STEM Action Center and Idaho National Laboratory (the nation's leading center for nuclear energy R&D) last month to host STEM Day on The Blue.
About 40 BSU student-athletes — including members of the Broncos' football, men's and women's basketball, soccer, volleyball, golf, tennis, and track and field teams — joined cheerleaders and Buster Bronco as they coached 260 rural and underserved elementary school students through hands-on science, technology, engineering, and math activities.
BroncoLIFE, a Boise State Athletics program, worked with STEMfinity, a Boise educational supply store, to design eight stations that participating elementary students rotated through. The event utilized student-athletes, who are wonderful role models for these students, to demonstrate you can be both an athlete and pursue a career in STEM — that the two are not mutually exclusive.
They created electronics projects with Snap Circuits modules, assembled and launched water rockets capable of blasting off over 50 feet, completed team-based structural-design challenges with KEVA maple planks, experimented with light using prisms and lasers, and built simple machines incorporating levers, pulleys, inclined planes, wedges, and wheels and axles. The student-athletes also helped the youths apply STEM concepts to three athletic activities.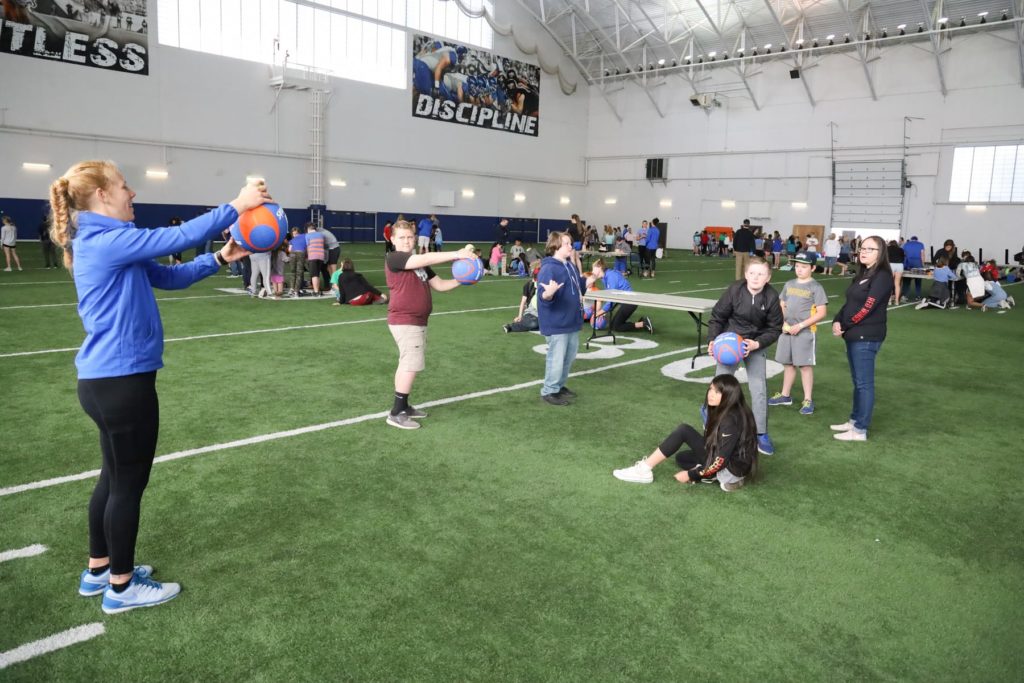 "The Blue" refers to the iconic blue synthetic turf on BSU's Lyle Smith Field in Albertsons Stadium. Installed in 1986, it was the first non-green playing surface in football history besides painted end zones. Technically the event was not actually held *on* The Blue its inaugural year — Boise State is currently installing new blue turf — and was staged at nearby Caven-Williams Sports Complex instead.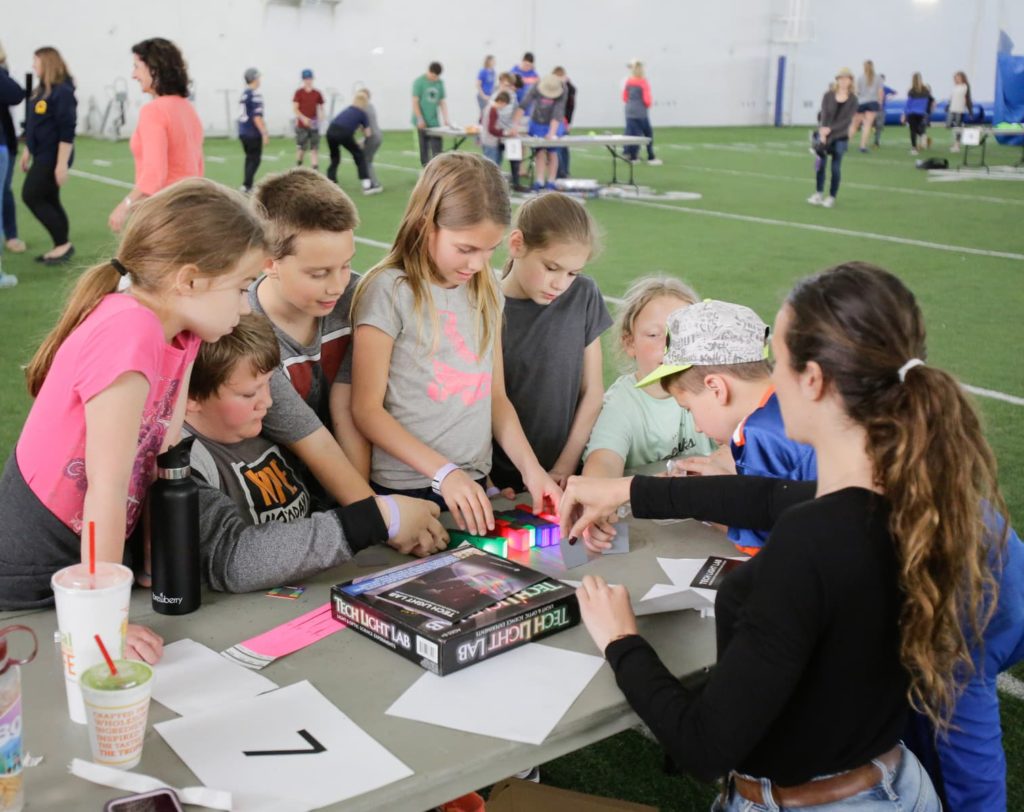 STEM knowledge and skills are important to the future of Idaho, because they're needed for critical and creative thinking, problem solving, innovation, and collaboration. Idaho is the fastest-growing state in the nation and the state has the third-fastest job growth and the second-fastest technology sector growth.
Meanwhile, Idaho's unfilled STEM jobs leaped from 3,800 in 2016 to 6,300 in 2018, which represents nearly $413 million in lost personal wages and more than $22 million in lost state tax receipts. The Idaho Department of Labor predicts upwards of 100,000 STEM jobs will exist in Idaho by 2024. These jobs will represent $6.5 billion in personal income and almost $350 million in tax revenue if Idaho's workforce is poised to fill them.
The Idaho STEM Action Center was created in 2015 because Idaho citizens are not entering the STEM pipeline fast enough to meet current and future Idaho workforce needs. Visit STEM.idaho.gov to learn more about how it is working with industry, government, educators, and students to develop resources and teacher professional-development opportunities to foster a STEM-educated workforce that ensures Idaho's continued economic prosperity.