By Don Bossi, president of FIRST®
There's been plenty said about the effects of diversity on corporate decision-making and creativity, but what we too often forget is that, as far as diversity and the talent pipeline are concerned, lives and livelihoods are very much at stake. As professional STEM opportunities continue to expand, we need to better recognize there are untapped students and communities around the country who could have bright futures in STEM if they were afforded the opportunities of their peers. Hands-on STEM learning should be the norm, not the exception.
We need to do more – as educators, as parents, as corporate investors and as nonprofit allies – to provide meaningful STEM programs and resources to students in need. To meet the requirements of tomorrow's economy and available STEM jobs, we need a diverse pipeline that reflects all backgrounds and capabilities, and these underserved and underrepresented populations are ready and waiting.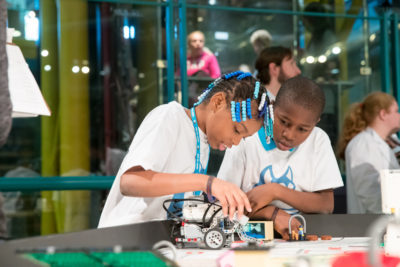 Take Detroit, where grant funding provided by FIRST, the global youth STEM education nonprofit I lead, has been impacting students since 2016. The S.A.Y. (Sports. Academics. Youth.) Detroit Play Center, which provides after-school programs in a northeast Detroit neighborhood, realized its students were missing quality STEM engagement programs and applied for a FIRST STEM Equity Community Innovation Grant so it could offer team-based robotics programs to engage and excite students, provide positive STEM role models and help kids see why knowledge in STEM is relevant in a community where STEM programming is nonexistent.
At FIRST, we launched our STEM Equity Community Innovation Grants program to support U.S. school districts and after-school programs serving underserved, underrepresented and vulnerable youth, many of whom reside in high-poverty areas. The program has a proven track record of creating positive outcomes, so when S.A.Y. Play received a grant, it wasted no time in launching teams.
S.A.Y Play educators were surprised by the level of interest from students who joined, many of whom initially craved the teamwork and collaboration core to a typical sports experience, but soon came to realize the unlimited potential of robotics. This experience is echoed in the dozens of schools and communities who have received these grants since 2016. Across sites, over 90 percent of educators have indicated gains in almost all STEM and 21st century outcomes for students participating in FIRST programs through the grant.
S.A.Y. Play is a wonderful case study in what's possible when students receive engaging STEM opportunities, but we need to continue this momentum to improve outcomes for students nationwide. The sooner we expose kids to real-world STEM opportunities, the better chance we have at getting them hooked. In a world that's changing quickly, we'll need to equip all students with a solid STEM foundation if they're to find future professional success.
FIRST is accepting applications from U.S. school districts with high-poverty schools for the 2019 STEM Equity Community Innovation Grants through November 4, 2018. To read more about S.A.Y. Play and its robotics program, click here.