This is a guest-written blog post By Emma Klauber, Tech for Social Good/Emerging Talent Programs, JP Morgan
Tech for Social Good at JPMorgan Chase recently celebrated its 10th year at the firm- 10 years of lifting up communities, empowering people through technology, and giving back to the cities where we live and work. Tech for Social Good runs several social good programs such as Generation Tech, Code for Good, and Force for Good that engage full-time employees through skilled volunteerism. Employees have the opportunity to work with students, community members and nonprofits to ideate and build solutions for social good challenges they are facing. As we reached our 10-year milestone, our programs reached a level of maturity and were running business as usual, like well-oiled machines. But when the global pandemic struck, we had to pivot our offerings to continue to serve those in need.  We consider 2020, in spite of its challenges and limitations, an exciting year of innovation and creativity that created space for the team to reimagine the way we engage our employees and communities.
Interns for Social Good
During COVID-19, nonprofits had to adapt their policies and operations overnight to keep donors and funders engaged and continue to serve their communities. Many aspects of our traditional 10-week in-person summer internship program also had to quickly change to accommodate a newly created 5-week virtual internship experience. It was a natural progression of our Tech for Social Good programs to include a social good project component in the virtual internship. Using a hybrid of best practices from our Code for Good hackathon and Force for Good program, our team partnered with Corporate Responsibility and Recruiting to stand up a new program model, which paired teams of interns and employee advisors with nonprofits in need of fast, sustainable solutions.
Interns were introduced to their projects and nonprofit clients during week one of the virtual internship; and placed in teams aligned by functional groups to tackle challenges across Human Resources, finance, process improvement and technology. Interns met daily with project mentors and weekly with their nonprofit clients to share their progress and ask questions to best design their solution to fits the needs of the organization.
Tech for Social Good team members, like myself, and other employee volunteers served as Product Owners, facilitating the relationship between the teams of interns and nonprofit clients. We worked directly with UK based nonprofit E3G, an independent European climate change think tank, founded in 2004, with the goal of translating climate politics, economics and policies into action. Interns were tasked reviewing the organization's current grants management system and recommending a more efficient set of tools and processes to manage their growing portfolio of work. During the final week of the internship, the interns presented their project solutions to their managers and nonprofit clients. The solutions ranged from mobile applications that allowed nonprofits to connect directly with constituents and donors, handbooks for how to safely bring employees back to work, or project plans for executing a virtual gala. Interns working with E3G presented a series of recommendations for new tools and software to be implemented across the organization for more efficient record keeping, grant management, and sharing of information between employees.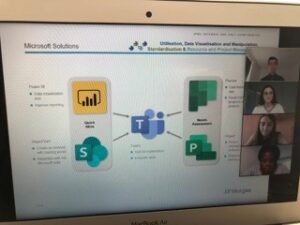 Interns for Social Good present their recommendations to E3G staff.
The social good project experience created an opportunity for 2,000+ interns to network with peers and JPMorgan Chase mentors, be exposed to cross-functional group work, work with a real client, and showcase their knowledge and creativity for good. Managers had a chance to observe interns' ability to collaborate and create a solution with real world application. Additionally, nonprofits benefitted directly from rapid ideation and high impact solutions that can be immediately integrated into the organization.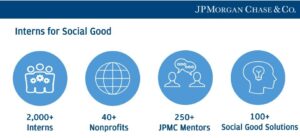 Supporting Colleagues during COVID-19
In the first few weeks of quarantine, many of our JPMorgan Chase colleagues started working full-time from home and supporting full-time distance learning with their children. The Tech for Social Good Youth Team received a number of requests for resources to keep employees' children engaged with their education outside of the traditional school environment and entertained while stuck inside.
Within a week, the team rallied a group of tech volunteers and spun up a fully functioning resource page for employees to ease the burden of finding solutions individually. The Parent Resources page sorted educational activities and resources by age and subject area and included short links for other members of a household to access on their personal devices. This page was shared widely across the firm and the team immediately went to work to improve the user experience and respond to employee submitted content. The following week, with a help of a UX/UI team, the site was refreshed and content was now displayed in clean tiles and the user interface was further improved with the introduction of QR codes for external accessibility. A filter and search feature were also implemented for employees to jump straight to relevant activities.
Our goal with the Parent Resource page was to provide a solution to what was most important and needed and alleviate the burden of navigating distance learning alone. We allowed ourselves to be comfortable with an imperfect product in its first iteration and enabled our technologists to make a real contribution in a time of need.
Hear more about the development of the Parent Resources page directly from Ali Marano, Global Head of Tech for Social Good, on the JPMorgan Tech Trends podcast.
Promoting Cyber Safety
As a bank, cyber security is imperative to our everyday operations and we have incredibly knowledgeable and experienced employees on the subject matter. In the wake of COVID-19, cyber scams have increased (FBI, 2020). Fortunately, educating our communities on Cyber Safety is something Tech for Social Good has been doing for years. Our program, CyberKidz, is a global volunteer-based program aimed at educating kids and their parents in our local communities about being safe and secure online. As global lead of CyberKidz and a member of the JPMorgan Chase Cyber Speakers' Bureau, I train technologists to deliver presentations to audiences of ages six through adult senior in all types of community settings such as school classrooms, senior centers, and Chase branches.
When working remotely and online learning became the norm for students and families, there was a demand for best practices and tools to keep children safe while they were spending more time than ever on the internet each day. CyberKidz volunteers pivoted to virtual presentations and as a result were able to increase our geographical reach and impact. We were no longer limited to locations where volunteers could visit within a short drive and opened this opportunity to a global audience.
In the six months of quarantine, our global CyberKidz volunteers have delivered presentations to over 3,000 students, educators, parents, Chase clients, nonprofit constituents, professional organizations, and JPMorgan Chase employees. Sessions have been held in English and Spanish for audiences in locations from Buenos Aires to Singapore to Chicago.
This also afforded my team a special opportunity to collaborate with our colleagues on the Cyber Education team to create new content to address new cyber security threats around donation scams, online activism, and awareness of emotional triggers that can lead to vulnerability. This COVID-19 specific content will be offered to employees in all global regions during Cyber Awareness week in October.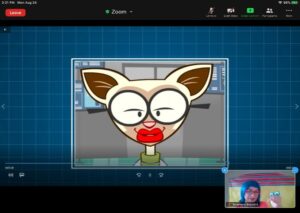 A JPMorgan Chase CyberKidz volunteer leads a presentation about Online Privacy (The Center for Cyber Safety) for elementary students.
I am proud to be on a team that doesn't shy away in the face of challenges. We approached these unprecedented times as an opportunity to innovate – to move faster, to reach more people, and to make an even greater impact. Some of the lessons learned along the way will be carried forward in our programming for years to come. I can't wait to see what the next 10 years holds.
Follow JPMorgan Chase, Tech for Social Good programs on LinkedIn, Twitter, and Instagram- @jpmorgan, @chase