Dr. Katherine Bihr, Vice President of Programs and Education, TGR Foundation, A Tiger Woods Charity
The academic year has begun. Back to school shopping was less about clothes and three-ring binders but instead focused on hotspots and laptops. Stress, fear, anxiety – yep, all present. But this school year is different. Very different. What's particularly troubling is the fantasy we tell ourselves that this will all be over soon and everything will go back to normal. Normal. Let that sink in – was normal really all that great? If it was great, who thought so?
I wonder how we as educators will confront what is in front of us. The challenge isn't about COVID-19, remote learning and social distancing. It's about leaning in and taking a hard look at the longstanding problems affecting K-12 education. It's about admitting that our educational system is not equitable – COVID-19 may have brought that reality closer to the surface, but the gaps have always been there.  As educators we must reflect on our roles and accept responsibility to deliver on the promise of providing all students with the chance for success.
We are at an inflection point, one that challenges teachers, and everyone in education, to not succumb to the way things used to be, but instead give voice and energy to what can be for each and every classroom around the country. Now is the time to be nimble and brave enough to know that change is absolutely critical. As leaders, we must create a set of expectations for learning as we move forward and meet the needs of ALL the students we teach.
1.  Put students at the center: Until we put students at the center of learning, we will continue to create targets that will work for some families and communities, but not for our most vulnerable. We need to ask ourselves what do ALL students need to know and learn to be successful in our community and the world? We need to reimagine learning so that the focus is on student voice and agency, giving the next generation the tools for them to access the many opportunities that await them in the global economy.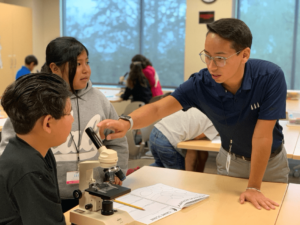 Students at the TGR Learning Lab in Anaheim, California take part in inquiry-based STEM classes that encourage collaboration, critical thinking and real-world problem solving.
2. Build a pathway between the classroom and industry: Setting our students up to be successful in the world requires intentional coordination of resources from local, state and federal levels that goes beyond financial support. Locally, we need investment and understanding from business and industry leaders. Businesses can flourish and continue to grow if and when they are connected to the learning pathway. By building a bridge to tomorrow's workforce, beginning in K-12, we're ensuring every student has equitable access to career opportunities.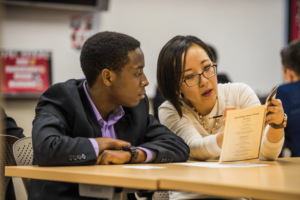 Career-readiness workshops not only allow students to gain valuable power skills, but exposure and access to local business leaders create a fluid pathway to the workforce.
3. Encourage innovation, incubation and then acceleration: We need school leaders to encourage innovation from their teachers that creates a web of learning opportunities that offers support and allows flexibility for students' to move at their own pace and discover a future that they have a hand in creating. Fostering teacher agency will not only lead to student agency but will result in innovation inside and outside the classroom.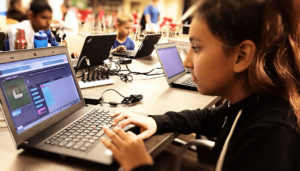 Encouraging our students to be curious innovators and entrepreneurs from an early age will fuel their passion to learn and stay engaged in the classroom. 
There are a multitude of reports and research that will be read and implemented – but what if the solution was closer at hand than we realize? Building equity into our discourse and plan for education is the responsibility of all of us who care about the future of our democracy. It is the key to our success economically as a nation and globally as a citizenry.
Dr. Katherine Bihr is the Vice President of Programs and Education at TGR Foundation. For nearly 25 years, TGR Foundation has worked to empower students to pursue their passions through education. Through our award-winning STEM curricula, college-access programs, a digital platform and educator professional learning, TGR Foundation has reached more than one million students and offers resources and support needed to thrive in school and beyond. For more information, visit TGRFoundation.org or follow us on Facebook, Twitter and Instagram.