On April 14, 2018, the Sussex County STEM Alliance (SCSA) brought the successful 28-year DuPont/Girl Scouts collaboration of the Engineering Your Tomorrow program to Sussex County, which was held at the Delaware Technical & Community College's Jack F. Owens Campus in Georgetown, Delaware.
The Engineering Your Tomorrow (EYT) program is geared towards middle-school aged girls, grades 6th-8th, featuring a full day of fun, hands-on, engaging activities based on fundamental principles of science and engineering, led by successful local women scientists and engineers. Parents also participate by learning and exploring education and career options available to girls in science, technology, engineering and mathematics (STEM) fields.
The first of two keynote speakers for the event was Delaware's First Lady, Tracey Quillen Carney, who emphasized that all Delaware's youths can be given an opportunity to be successful. Carney shared how impressed she was to see so many bright young people pursuing great STEM education and careers. Carney further expressed that some of the most sought-after careers are in mathematics and coding. She shared with the girls several characteristics that many employers are also looking for in these fields, such as strong team players who work consistent to develop their own abilities, while providing value and support for what others contribute to each project.
Tracey Quillen Carney, Delaware's First Lady, also delivered an important message to the girls and their parents. She said, "Never let anyone tell you that careers traditionally validated by men requires you to play down your strengths as a woman. Be a team player and work hard at being your best and support others at being their best too. Be the brain, heart and soul to put STEM tools to their truly best use!"
In the true spirit of STEM, Mrs. Carney joked that this is the first time she was referring to her speaking notes using technology… her phone.
Next, keynote speaker, Erin Sparks, Ph. D., and Assistant Professor in Plant and Soil Sciences at the University of Delaware, shared with the young girls that she didn't initially like science, nor was she very good at it and that she really didn't know what she wanted to be when she grew up! In a very spirited and enthusiastic manner she shared her turning point and journey to pursuing her career path. She also shared her recipe for success:
Hard work and a willingness to learn will take you far.
You don't have to know what you want to be when you grow up!
If you're interested in something – explore it!
The girls rotated through four events teaching them basic principles of science and engineering:
The Marshmallow Challenge objective involved the girls building the tallest freestanding structure that could support a marshmallow. The STEM concept taught the importance of communication, teamwork, collaboration, and civil and structural integrity. The civil engineers involved in teaching these concepts were local engineers from Del-DOT.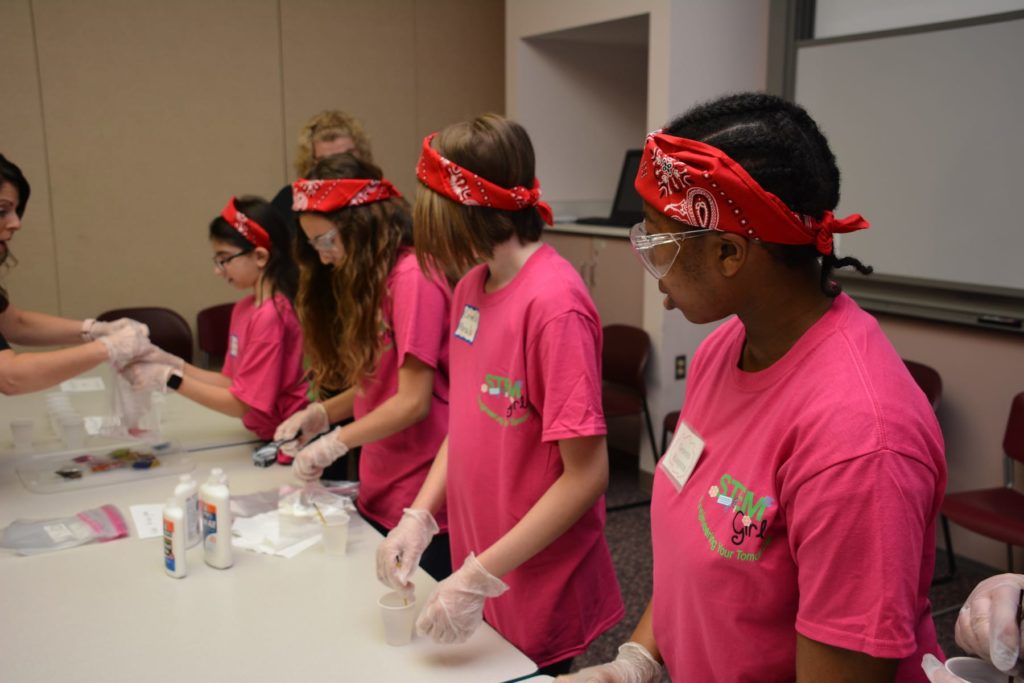 The Cotton Ball Catapult objective was to design and construct a catapult to enable cotton balls to hit specific targets. The STEM concept had the girls explore the concepts of mechanical engineering, design, and math. The mechanical engineers involved in guiding these concepts were from Pat's Aircraft in Georgetown, DE.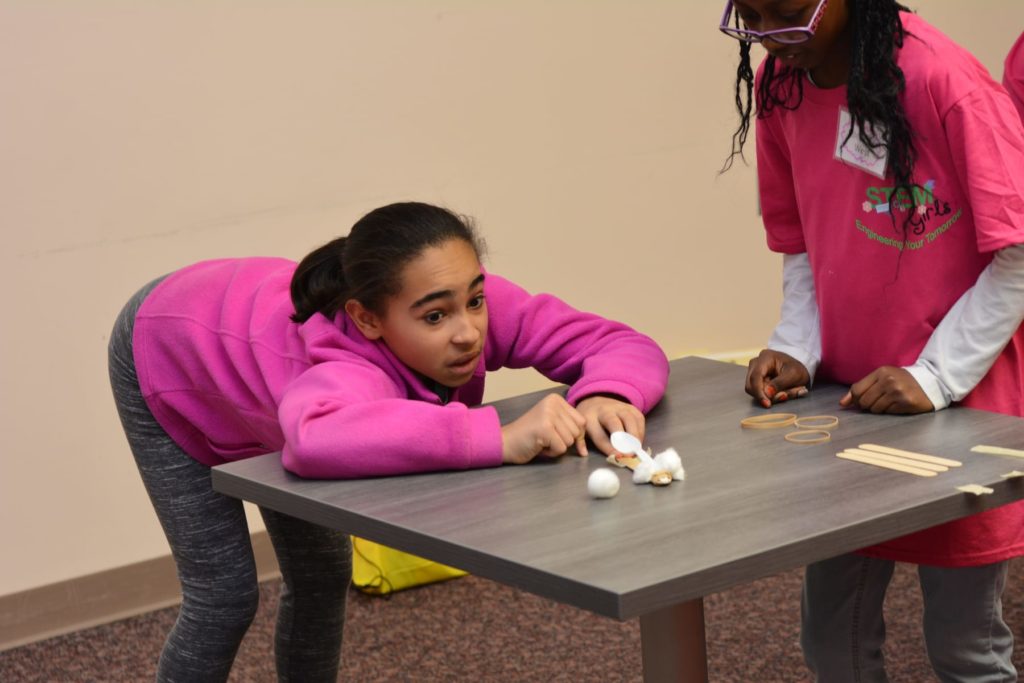 The Robotic Hand objective allowed girls to design and create a robotic hand. The STEM concept taught the importance of engineering principles to tackle the fields of bio-medical engineering. The engineers involved guiding these concepts were bio-med professors from the University of Delaware.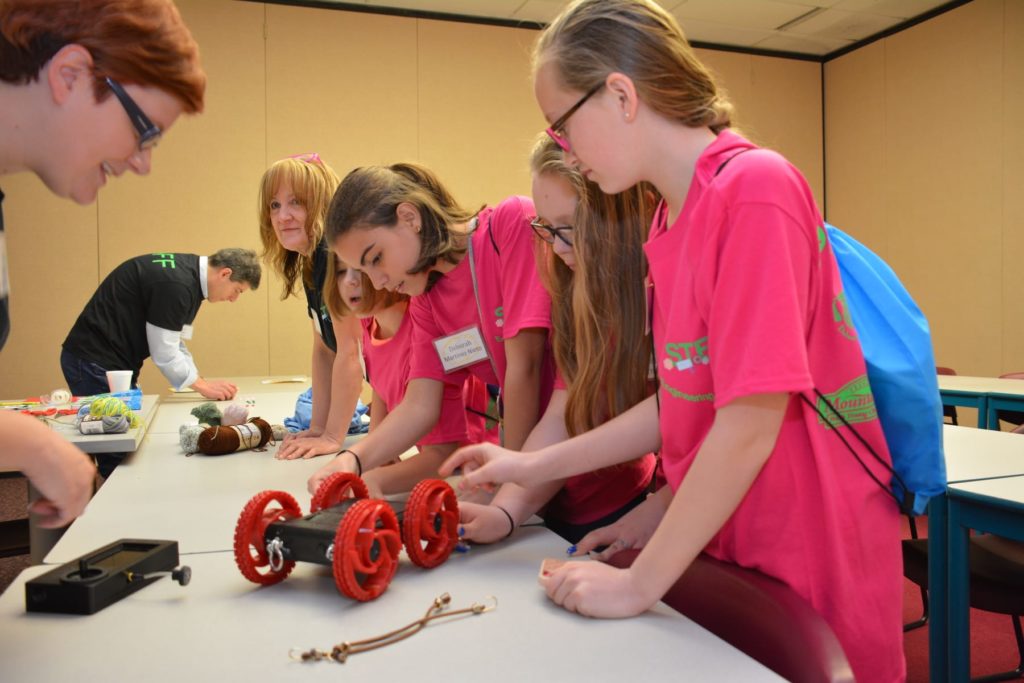 The Slime Challenge was to create slime, and understand the chemistry of polymers.  The STEM concept was to explore the design, science, and chemical engineering of materials. Local teachers in STEM backgrounds from community school districts and the University of Delaware Agriculture department assisted in the girls learning these concepts.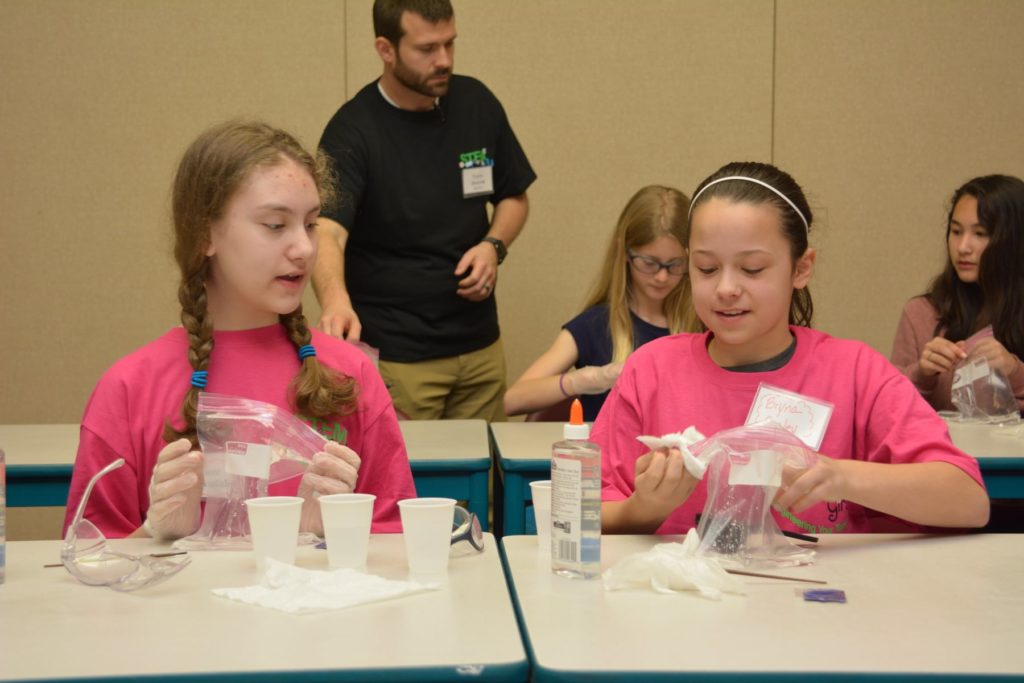 While the girls participated in their activities, parents were engaged in conversations with successful, local and regional scientists and engineers. The panelists represented both private and public sectors and their experience ranged from those beginning their careers, through those were nearing retirement. The panelists, mostly women, of different ethnicities and backgrounds, not only shared their experiences, but the diversity of the panel also sent a powerful message that it doesn't matter where a girl comes from or what her heritage is—they, too, can be a successful scientist or engineer!
The morning session of the Parent Panel discussed:
Fields of Engineering such as Chemical, Biomedical, Civil, Electrical, Environmental, Mechanical, Metallurgical, Structural, Safety, Industrial, Fire Protection, Power Systems, Agricultural, Nuclear, Software, Aeronautical, Geotechnical, Marine, Thermohydraulic, Petrol, Pharma, and Sanitation.
A typical day in the life of an engineer.
The afternoon panel session focused on educating parents on how they can support their daughters in becoming engineers and scientists. Discussions ensued with encouraging their girls to participate in STEM events like EYT, as well as other educational programs at local schools, such as DTCC's Kids on Campus. As their girls' education progresses, parents were apprised of post-secondary education programs, such as DTCC Associates Degrees, to other 4-year schools and well as how to pay for them, financial aid options, etc. Also discussed was licensure and how important it is for professionals to obtain.
The panelists were representatives from financial aid, Delaware State University, University of Delaware, Delaware Technical & Community College and Century Engineering.
The event would not have been possible without the 50+ volunteers who are passionate about helping students learn more about STEM and know how a career in these fields can make a positive difference on society. Many of these women scientists (and a few male scientist supporters), who made this event a reality, focus their career activities on developing solutions to global challenges.
The importance of events like EYT, to attract girls of all backgrounds to learn about STEM, is emphasized by Mike Maksymow, VP/CIO of Beebe Healthcare and founder of Sussex County STEM Alliance. According to Mike, "Our nation continues to experience a shortage of qualified STEM talent to fill the open STEM jobs and it is getting worse. One of the contributing factors is the significant gender imbalance where 76% of STEM careers are filled by men. If we are going to remedy this shortage, we need to attract girls to the fun and fascinating fields of STEM."
Check out a video of EYT 2018 below!