Milwaukee's Premier STEM Conference Announces Keynote Speakers and Breakout Sessions
16th Annual sySTEMnow Conference Focuses on STEM Talent Development and Education

Milwaukee, Wisconsin – September 17th, 2019 | In just seven weeks, STEM Forward will host the 16th Annual sySTEMnow Conference on October 31st, 2019 at the Italian Community Center. sySTEMnow is Metro Milwaukee's premier STEM (Science, Technology, Engineering and Math) conference bringing together business leaders, community members, educators and government officials to share best practices and lessons learned. It's also the best place to understand the larger landscape and initiatives in Southeastern Wisconsin STEM – who's who, who's doing what, and approaches that are achieving results.
This year's event will feature two keynote presentations, twelve breakout sessions, and several poster sessions focusing on the top STEM industry trends, examining and preparing the future workforce, improving diversity and inclusion, encouraging education innovation and building strong partnerships.
Jignesh Patel, Serial Tech Entrepreneur and Computer Science Professor at the University of Wisconsin Madison will open up the conference. His exclusive presentation for the sySTEMnow Conference is entitled, "The 3 E's: Economy, Education & Excellence" where he will describe the impact of disruptive technologies on the Wisconsin economy and its employers.
For the Luncheon Keynote Speaker, STEM Forward is pleased to welcome Jan Morrison, President and CEO of the Teaching Institute for Excellence in STEM (TIES). TIES is dedicated to making STEM accessible to everyone, especially underserved and underrepresented learners. TIES does this by connecting stakeholders and building collaborative partnerships to create meaningful STEM learning experiences. Morrison will discuss her journey of 35 years as an educator and principal and how it helped her to build a successful organization full of world- class STEM education professionals, system engineers, and education visionaries.
Confirmed Breakout Sessions include:
During the conference, Wisconsin's most innovative STEM practitioners will also be honored as the 2019 Stemmy Awards are presented. Tarik Moody of 88Nine, one of Milwaukee's most distinctive on-air personalities and STEM advocates, will emcee the awards ceremony. Additionally, the Generation STEM youth display will allow local youth to present their STEM projects to the educators, leaders, government officials and change-makers of today.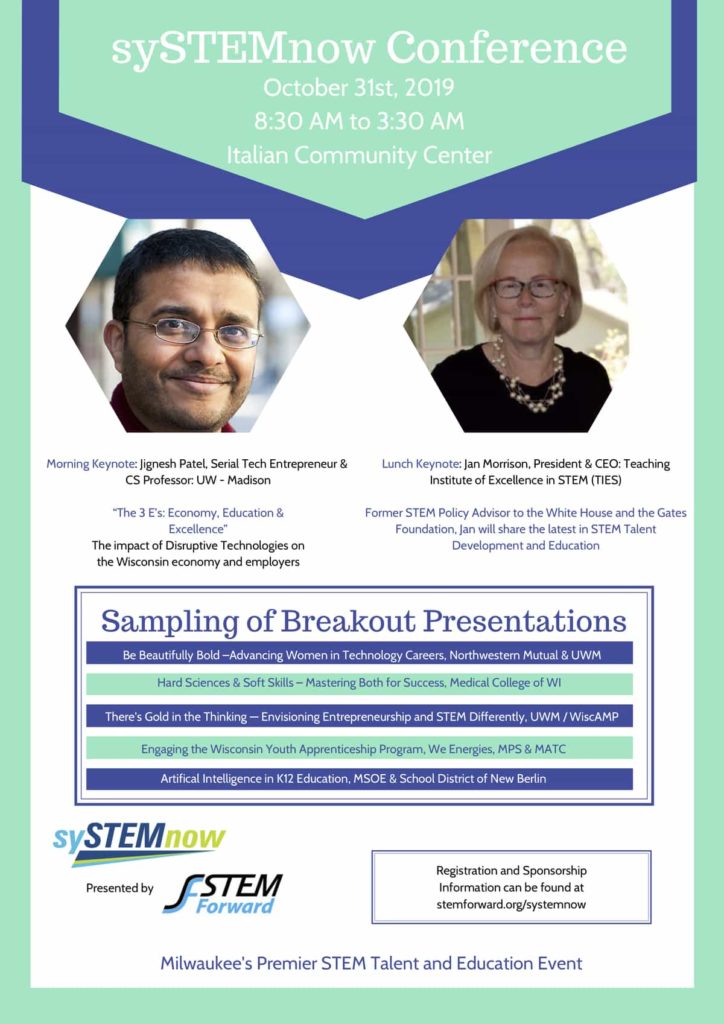 About STEM Forward
STEM Forward is a 501(c)(3) nonprofit and metro Milwaukee's leading STEM education and outreach provider. STEM Forward's programs, events and activities inspire local youth to pursue STEM careers and provide a pipeline of talent to businesses in southeastern Wisconsin.