We all need a champion. Someone to believe in us, in our potential and light the path to a brighter future. The same is true for STEM. Instead of one, this champion needs to be a team spanning the US, made up of the brightest and most dedicated minds. Looking at you corporate America. Filling the jobs of tomorrow means planting seeds today. 
Investing in STEM education earlier and often enables students of all backgrounds to participate in the STEM workforce. Inspiring middle school students to explore STEM pathways is vital to building a robust STEM workforce of the future to ensure our nation's security and economic development. Research has repeatedly demonstrated that middle school is a critical time to influence student knowledge, attitudes, motivation, and career interest in pursuing future STEM paths leading to potentially life- changing career aspirations. 
A 2018 report from the National Science and Technology Council (NSTC) notes that STEM has been a source of inspirational discoveries and transformative technological advances since the founding of the nation, helping the U.S. to develop the world's most competitive economy and preserving peace through strength. Research indicates that grades 7 through 9 (12- to 15-year- olds) are the key time for influencing STEM career interest and for building self-efficacy with respect to mathematics and science (Blotnicky et al, 2018).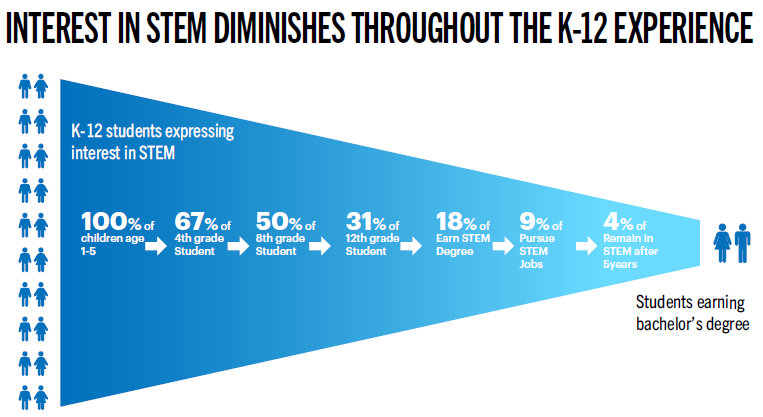 Results from a study on the influence of students' participation in STEM competitions on their interest in STEM careers (Miller et al, 2017) found that students who participate in STEM competitions are more likely to express interest in a STEM-related career at the end of high school than students who do not participate, even when students' prior career interest in STEM is considered. Additionally, the impact of competition participation on the pursuit of a STEM career was found to be three times stronger when students compete in more than one competition.
A vigorous domestic STEM workforce that innovates quickly to confront national challenges is a central driver for economic growth. Yet while the number of degrees awarded in STEM fields has increased since 2000 in the United States, labor shortages persist in certain fields requiring STEM degrees. 
For only the second time in more than 20 years, the Society for Science is soliciting proposals from interested parties to serve as the exclusive Title Sponsor of America's premier national middle school STEM research competition, beginning in the 2022–2023 competition program year. Co-branded with Society for Science, the Title Sponsorship offers a strong brand platform to inspire the next generation of scientific entrepreneurs, innovators, and leaders while showcasing the sponsor as a champion of STEM education and a thought leader playing a vital role in advancing science for humankind.
Without champions, change is unlikely. But with corporate America banding together to support a strong tomorrow for STEM, the future is limitless.  
---
A request for proposal is available at www.Societyforscience.org/middleschoolsponsorship. Interested entities should visit the site to learn more about the sponsorship opportunity and RFP process.