STEMconnector released the State of STEM report in May of this year, and we continue to use the framework and research to drive knowledge and action for our networks. We are pleased to share a series of blog posts diving more deeply into the resources found in the call-out boxes included throughout the report.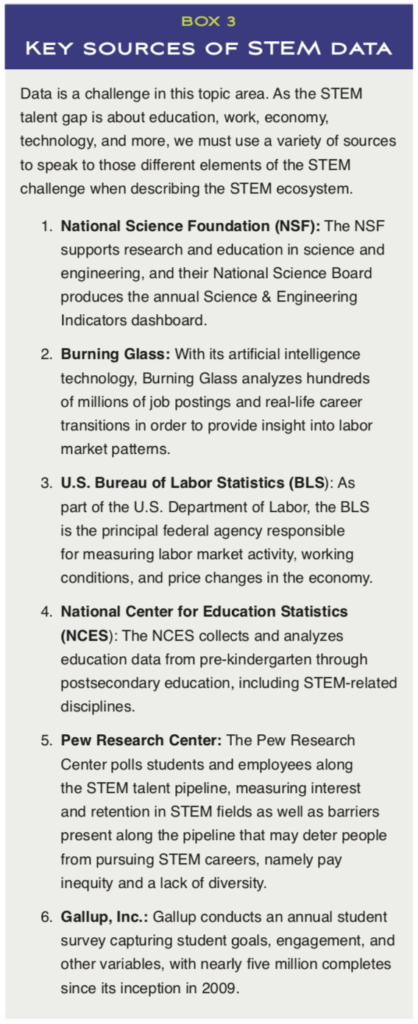 This second piece focuses on Box 3: Key Sources of STEM Data (page 4 of the report) and provides a brief overview of the six featured research sources. Data is used to drive decision-making by all actors in the STEM talent ecosystem, including K-12 and postsecondary educational institutions, employers, philanthropic and corporate funders, and policymakers. Much of the data available on STEM education systems focuses on programmatic outcomes such as number of students receiving an engineering degree each year, or percentage of schools offering computer science classes. From an employment perspective, data is collected at scale on single point in time counts of specific jobs such as those requiring computer science. While this data is useful, it falls short of exploring the complexity of the STEM talent ecosystem. It relies on a traditional, discipline-specific definition of STEM, and does not fully capture all the types of education and skillsets that make up the modern economy. To create a more nuanced view in State of STEM, we drew data from across disciplines and used a mix of available population-level statistics and individual educational and employer institutions' data. Top sources include:
What sources do you find most useful for understanding the STEM talent ecosystem?
Let us know here: ariana.shakibnia@STEMconnector.com OR comment box function)